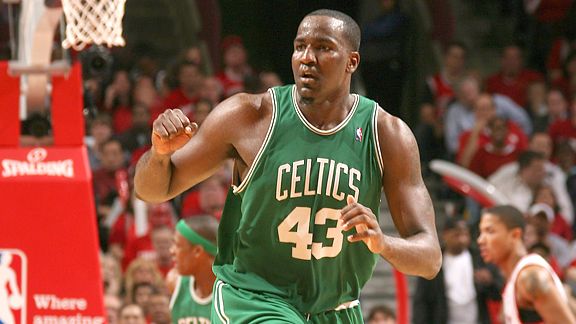 Nathaniel S. Butler/Getty Images
He's not the only Kendrick in Perkins in town ... sorta.BOSTON -- A collection of pregame news and notes before the Boston Celtics host the Los Angeles Lakers in Game 3 of the NBA Finals Tuesday night at the TD Garden:
The rundown (a quick look at pregame headlines)
* There's a new Kendrick Perkins on the Boston sports scene
* Loose balls: Perk on Bynum; Doc on bench, Monty Williams
There's a new Kendrick Perkins on the Boston sports scene
The Boston Red Sox selected outfielder Kendrick Perkins, a Texas high schooler, with a sixth-round pick (203rd overall) in this year's MLB entry draft causing one of the more unique eponymous names in Boston sports history.
Informed of the namesake, the Celtics' more established Kendrick Perkins didn't believe it at first.
"No, they didn't. You being for real?" asked Perkins before tip-off of Game 3. "I thought I was the only one. That's cool, though. I don't even know another person named Kendrick, I don't think."
When a reporter pointed out that Perkins has a son of the same name, he smiled and admitted he did indeed know another Kendrick Perkins.
But is the Boston sports scene big enough for two Perkins?
"We have the beast, so I don't know what they're going to call him," said Celtics coach Doc Rivers. "I think there's room and if he can play like Perk, there's definitely room. That's awesome. I didn't know that. He's from Texas, of all places. He's got to be a physical player. He's probably a catcher."
Perkins, the baseball player, is actually an outfielder from La Porte High School (LaPorte, Texas) about an hour southwest of where Perkins played his high school ball at Clifton J. Ozen High School in Beaumont, Texas.
Rivers was spot on in his assessment though. According to Baseball America, Perkins is 6-foot-3, 215-pound quick-twitch athlete with lefthanded power potential and solid speed. He also starred on the gridiron, rushing for 3,454 yards and 47 touchdowns in his final two years, breaking a 30-year-old school record for rushing yards. He had received offers to play football collegiately at Kansas, Southern Methodist, and Texas Christian, but said his focus was on baseball.
Baseball America did note that he had sandwich-round potential, but could slip to the third or fourth round. Instead, the Celtics nabbed him in the sixth. The publication quoted an area scout who said, "He's a classic boom or bust player. He could be Jason Heyward, or he could be Choo Freeman."
If he's Heyward, things could get mighty confusing for media members and fans alike.
Loose balls: Perk on Bynum; Doc on bench, Monty Williams
* Back on the subject of hoops, Perkins, who battled knee tendinitis late in the season, was asked if he's been surprised by what Andrew Bynum has been able to do given his ailing knee. Bynum logged 21 points in 39 minutes in Game 2.
"No, I mean, he can still jump," said Perkins. "He's still long and athletic. He's doing a pretty good job doing what you gotta do -- catch and finish around the basket. He's still rebounding and blocking shots."
* And on the subject of limiting Gasol in Game 2, Perkins pointed to preventing offensive rebounds as the key: "Just kept him off the glass. He still scored buckets, but we kept him off the glass. We can still do a better job of interior defense, the bigs are getting too many easy looks and scoring way too easy in the paint."
* Asked about not having a dedicated sixth man like Jamaal Crawford, Rivers explained how he's managed the hodgepodge of talent off the pine: "We do have guys," said Rivers. "We expect solid play from Glen Davis and Rasheed Wallace coming off the bench every night. We know they're coming in and they're going to have an impact. So at the big spots I think we're pretty solid. It's more at the smalls. Tony [Allen] has to be our defensive and our energy beacon, that's what we call him. That's what we need him to have. Nate [Robinson] is a wild card for us right now. He was great in the Orlando game, he was great the other night. So you obviously don't know on a given night with any of those four, but you know one of them. And a lot of times fouls have dictated with the bigs which way we go."
* Monty Williams, formally introduced as the head coach of the New Orleans Hornets Tuesday, said during his session with the media that Rivers was the first person who ever told him he could be a coach. Asked about that chat, Rivers sheepishly admitted he said that in part because he had some bad news for Williams.
"It was when I was coaching in Orlando, and he was playing for me," said Rivers. "I actually -- Monty is one of the few players that I played with and coached. It makes you feel like you're 1,000 years old. Now he's coaching and he's a head coach. I'm just really happy for him. I will say that. But I told him he was going to coach some day because I told him I was about to cut him soon as a player."