BOSTON -- A collection of postgame news and notes after the Los Angeles Lakers defeated the Boston Celtics in Game 3 of the NBA Finals on Tuesday at TD Garden:
The rundown (a quick look at postgame headlines)
* Despite solid night, Doc wants more shots for KG
* Pierce struggles, remains happy with the looks
* Loose balls: Doc sticks with Baby; Pats invade Garden
Despite solid night, Doc wants more shots for KG
Think the Celtics wanted to get Kevin Garnett involved early in Game 3?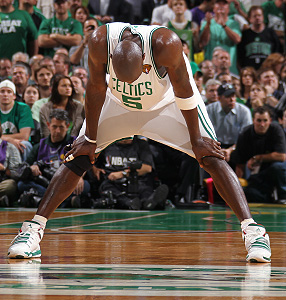 Nathaniel S. Butler/NBAE/Getty Images
KG was better, but it wasn't enough for the Celtics to win Game 3.Hindered by foul trouble in Game 2 (and simply a poor overall showing in Game 1), Garnett scored the first six points for Boston in Tuesday's Game 3, converting a layup, then a pair of alley-oops (including the first for a two-handed jam), en route to scoring a game-high 29 points on 11-of-16 shooting with six rebounds, three assists and a blocked shot over 31:45.
It was as close to vintage KG as we've seen in a while.
According to ESPN Stats & Information, Garnett finished with 37 touches in Game 3, including 18 in the paint. He converted 9-of-12 shots from inside the lane, totaling 25 of his points, all of which came against Pau Gasol, who had previously dominated the matchup (Garnett had 56 total touches over Games 1 and 2, only 18 in the paint, and had 22 points on 5-of-12 shooting).
"I haven't had the type of games that I would like," said Garnett. "I haven't had the type of rhythm that I would like. Tonight was just a rhythm night for me. Like I said, it flowed. I went with it. Doc pulled me to the side after Game 1 and told me to stay aggressive. Different series, different players are going to have big nights, certain guys are going to have better flow. Ray [in] Game 2 had a great flow, I had a decent flow tonight.
"But at the end of the day, it's about the wins. I don't care how I'm playing. I played [like] crap in Game 2 I thought, but I got some key rebounds in that game and we won. Tonight I had a nice offensive flow and we lost. I'll take Game 2 and how I played there and wins all day over a steady flow and a decent offensive game."
Garnett said it was difficult to rally from 17 points down and not emerge with a win, particularly on the Celtics' home turf.
"It's very frustrating," said Garnett. "Very frustrating when you don't play well offensively but defensively, you sort of buckle down and get the stops and things that you want and you get back into the game only to come up short."
Despite the quality outing, Rivers suggested the Celtics still fell short of their goal. After feeding Garnett three shots in the first 75 seconds of the game, Boston only got him 13 shots over the next 46:45.
"KG was great, [but we] didn't get it enough," said Rivers. "We talked about 20 shots before the game. He shot 16, should have had 25 as far as I was concerned. I thought there were a lot of times we still should have gotten the ball to him. I didn't think we had a lot of great ball movement tonight. I thought, again, it was a half-court game because of the way they were playing.
"One of the things I told our team is, Game 2, Ray had it. We did a great job of getting it to Ray. Game 3, Kevin had it. I didn't think we did as good of a job getting it to Kevin."
Pierce struggles, remains happy with the looks
Celtics captain Paul Pierce continues to struggle offensively.
After a clunker in Game 2 in Los Angeles, Pierce labored through 5-of-12 shooting for 15 points over nearly 34 minutes Tuesday night. Unlike recent outings, he struggled to get to the charity stripe, shooting just four free throws.
"With me, I thought I missed shots in the first half that were some good looks," said Pierce. "I'll take those looks all night long, the ones I got. But it wasn't about my shots. It's about going out there and trying to win a game as a team, executing. We broke down on little plays. That's the difference between winning and losing in a championship or playoffs."
Like Garnett, Pierce lamented how the team rallied out of the early hole, but never had enough to get over the hump.
"It seemed like when we got to two or three points -- with the ball -- we'd come down, turn it over, [commit] offensive fouls or something," said Pierce. "It just seemed like something bad happened when we had the ball [looking to go ahead]. They capitalized when they came down with free throws, big shots, to go back up three or four. When you have these types of games -- when it's tight -- down the stretch you've got to execute. The littlest plays can be the difference between winning and losing."
Pierce remains confident looking ahead to Game 4, even if his proclamation about not returning to L.A. has been spoiled (unless the Lakers close out Boston).
"I feel confident with my ballclub," said Pierce. "We came [in the locker room] and talked about it a few minutes before the coaches came in. We're a team that's going to stick together, not get down, point fingers at one another. So we'll bounce back for Game 4."
Loose balls: Doc sticks with Baby; Pats invade Garden
* Check out the video above where Ray Allen chats about his poor shooting night. Said Allen: "I had two shots that went in and out, the rest felt good. A couple shots [the Lakers] got their hands on or closed out to the shot and got a piece of it. I thought they did a good job defensively." Click HERE to read more from Allen on his struggles.
* As he's apt to do, Rivers leaned on Glen Davis (12 points, 3 rebounds, 23:42) over starting center Kendrick Perkins (5 points, 11 rebounds, 21:42) throughout much of the second half, in large part because of his offense as Boston rallied from 17 points down.
But Perkins was notably absent during crunch time, when Rivers continued to call on Davis for his hustle and ability to generate offense.
"Baby was playing well," said Rivers, when asked why Perkins wasn't on the floor. "No conspiracy. Baby was playing well."
* The Patriots could have held a practice at halftime with nine members in attendance and another two alums in town. Those that made the trek: Quarterback Tom Brady, wide receivers Wes Welker and Julian Edelman, safeties Brandon Meriweather and James Sanders, running back Fred Taylor, linebackers Eric Alexander and Tully Banta-Cain, and cornerback Leigh Bodden. Former Patriots Ty Law and Daniel Graham were also said to be in attendance.
Brady, rocking long hair from courtside seats near Boston's bench, sat next to Kobe Bryant's father. When he was shown on the JumboTron in the second half, Celtics guard Nate Robinson actually pulled Brady out of his chair to take a bow. He politely waved to the crowd and returned to his chair.