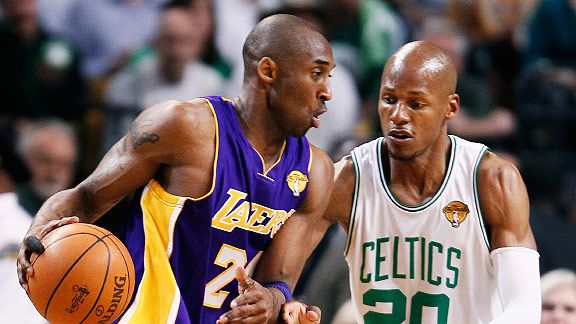 AP Photo/Winslow Townson
Ray Allen forgot to pack his red-hot shooting while traveling home from L.A.BOSTON -- Instant reaction after the Los Angeles Lakers posted a 91-84 triumph over the Boston Celtics in Game 3 of the NBA Finals Tuesday night at the TD Garden:
How the game was won: Kobe Bryant scored 27 points on 10-of-29 shooting, while Pau Gasol (13 points, 10 rebounds) and Andrew Bynum (9 points, 10 rebounds) helped pace the Lakers' attack. Kevin Garnett scored a team-high 25 points on 11-of-16 shooting over 31 minutes, while Rajon Rondo was limited to 11 points, eight assists, and three rebounds over 37 minutes.
Turning point I: The Celtics exploded out of the gates as Kevin Garnett scored the game's first six points, but the Lakers owned pretty much the rest of the first half. Los Angeles embarked on a 10-0 run spanning into the second quarter where a four-point lead ballooned to 14 thanks in part to a pair of buckets by Shannon Brown.
Turning point II: Trailing by 12 at halftime, the Celtics methodically chip away at their deficit, trimming it to six after three frames, and rallying within one early in the final quarter, but could never get over the hump. The Lakers always found a way to keep Boston at arm's length.
Stat of the game: Ray Allen finished 0-for-13 shooting from the field -- one miss shy of the NBA record for futility -- while scoring two points over 41 minutes. He was the only starter to finish in the negative (minus-3) in plus/minus.
Unsung hero: Derek Fisher entered the fourth quarter 1-of-5 for 5 points, but connected on 5-of-7 shots, scoring 11 of his 16 points in the final frame.
What it means: Keep that travel bag handy, Paul Pierce. If the Celtics are to win this series, you're going to have to head back to Los Angeles after all. The Celtics will kick themselves after this one, unable to get that go-ahead basket or the key stop down the stretch. Boston can't let this one linger, with Game 4 Thursday and a chance to still win two of three at home before the series (potentially) shifts back to the west coast.