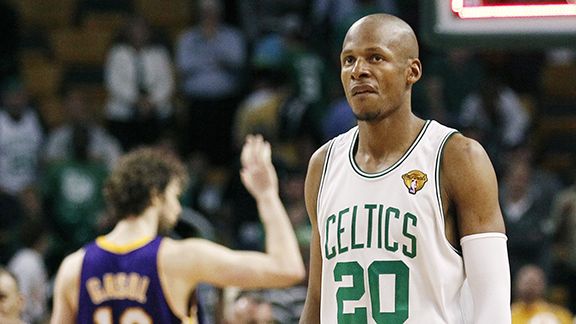 AP Photo/Winslow Townson
Ray Allen went ice cold in Game 3 after being red hot in Game 2.BOSTON -- A quick glance at some of the featured ESPN.com content after the Los Angeles Lakers defeated the Boston Celtics in Game 3 of the NBA Finals Tuesday night at the TD Garden:
Forsberg: C's best shooter at his worst: The NBA's great shooters never believe the problem lies with them. When shots aren't falling, they'd sooner challenge whether the rim is straight before they doubt themselves. So even after missing his first 12 attempts to open Tuesday's Game 3 against the Lakers, Celtics guard Ray Allen was certain No. 13 would drop. His team trailing by four with under a minute to play, Allen pulled up from the left corner. It felt good off the hand, but it clanged off the rim like his previous attempts. Allen finished with two points, four rebounds and two assists over more than 42 minutes. Two days after seemingly being unable to miss while setting a Finals record with eight trifectas -- the first seven of which came in a row -- during Boston's Game 2 win in Los Angeles, Allen nearly etched his name on a far more dubious distinction Tuesday. Allen's 0-for-13 performance ranked as the second-worst 0-fer in Finals history, falling one miss short of the record of 0-for-14 shared by Seattle's Dennis Johnson in 1979 and Baltimore's Chick Reiser in 1948.
May: Rivers officially miffed at refs: OK, it's bad form to rip the referees. But all Doc Rivers wants to know is this: Can he get through one game of the NBA Finals without one of his key players getting into early foul trouble? Is that too much to ask? In the hugely pivotal Game 3 Tuesday night, which the Lakers won, 91-84, the Celtics once again found themselves playing with only two of their Big Three. (Actually, only one, seeing as how Ray Allen went from Tucson in July to Vladivostok in December.) The final statistics will show that Paul Pierce had 15 points, three of them in the final minute. He picked up two quick fouls and was out of sorts for most of the night, battling Ron Artest and the officials. He had as many fouls (five) as field goals and, for the second straight game, was pretty much a nonfactor. Pierce simply played poorly in Game 2. He had no chance in Game 3, according to his coach. "Paul never got into a rhythm," Rivers said. "Every time he came on the floor, another whistle blows and he had to sit down. He was completely taken out of the game by the foul calls."
Abbott: A lost moment for Pierce, Celtics: The sound inside the TD Garden is explosive. When the fans are really going, it's difficult to think. And it's easy to understand why home teams win most NBA games. There was a moment of Game 3 when the place was just about to explode. Paul Pierce found himself all alone with a clear path to the hoop. In the middle of a tense fourth quarter, the Celtics needed just one little bucket to complete the project they had been working on since the first period: To finally tie the game up. But Pierce never got the ball.
McMenamin: Lakers pick up Kobe: The Lakers had lost by 39 points the last time they were at TD Garden for an NBA Finals game, but at halftime Tuesday night they had a double-digit lead and looked primed to take control of the series. The raucous Boston crowd had been silenced by Kobe Bryant, who led all scorers through the first two quarters with 16 points and had racked up a Rajon Rondo-like line that included six boards, three assists, two blocks and one steal. It looked like one of those classic Kobe nights, this time in the Finals, on the floor of the Lakers' most hated rival. But just as Ray Allen played Jekyll and Hyde, going from a Finals-record eight 3-pointers Sunday to an abysmal 0-for-13 in Game 3, so did Bryant suffer his own unfortunate turnaround. His opening, which had been so grand, fell flat down the stretch, as he choked in his familiar closer's role and shot just 1-for-6 from the field in the fourth quarter. Outside of a bounce-back game from Kevin Garnett, Allen got little help on the night. Bryant, on the other hand, was lifted up by a troop of teammates who filled in, acting as the Lakers' bullpen by committee and leading Los Angeles to a 91-84 victory and a 2-1 series lead.
For more, check out today's Daily Dime, with a collection of stories on Game 3, or hop over to our friends at ESPN Los Angeles to see how things are playing out west.