The second in a series of profiles of players that might be of interest to the Boston Celtics during Thursday's NBA Draft:
Buoyed in part by a strong NCAA tournament showing, Jordan Crawford could be climbing up draft boards, even as initial mocks pegged him as a late first-round talent. With uncertainty about whether they will be able the re-sign guard Ray Allen, the Celtics might have no choice but to reach for a scorer with the No. 19 selection.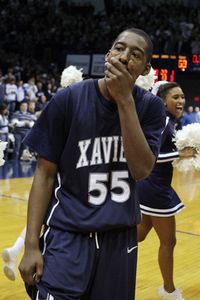 AP Photo/Michael Conroy
From ESPN's Player Evaluation:
Projection: Late first to early second round
Positives: Big-time athlete... Explosive leaper... Excellent finisher at the rim.. Good shooter with deep range... Can play some point
Negative: Undersized for his position... Not a committed defender... Some questions about attitude
Ford's analysis: Everyone knows Crawford is one of the best scorers in the draft. What they don't know is whether that will translate to the next level. He has to show two things. The first one is coachability. Will he take instruction from coaches? There have been big questions marks about that in the past. The second is attitude. Will he be content coming off the bench? If he will, he will be a very desirable pick late in the first round, since so few players can step in and score the way he can.
Forsberg's take: The Celtics' biggest weakness during the 2009-10 season might have been the ability to generate instant offense, particularly off the bench. A shooter like Crawford would go a long way towards curing that, particularly if allowed to ease his way into the rotation as a reserve guard. While no relation, his name can't help but make you think of Atlanta's Jamal Crawford, the NBA's Sixth Man of the Year this past season, and exactly the type of player that slayed Boston (particularly since they had no one comparable). The Celtics desperately need a player that can provide instant -- and consistent -- offense off the pine.
For more on Crawford, check out this draft profile video with analysis from Forsberg, Andy Katz and Tim Legler:
Previous profiles: Solomon Alabi