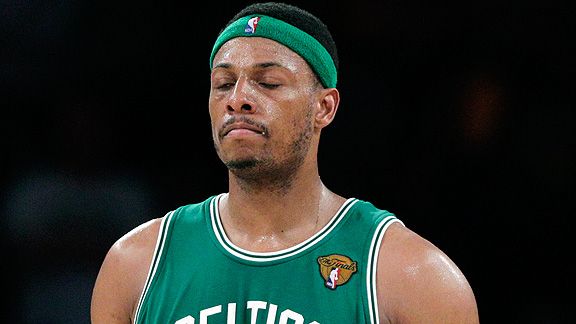 AP Photo/Jae C. Hong
Is the captain setting sail? Paul Pierce has opted out of his contract.One day before the deadline, Paul Pierce has triggered his early termination option and is set to join the prized class of unrestricted free agents Thursday.
The move shouldn't come as too much of a shock ... not yet, anyway. It could be in the best interest of both Pierce and the Celtics for him to navigate this channel. Pierce walks away from a guaranteed $21.5 million this season, but sets himself up to make as much as $96 million over the next four seasons. Especially with an uncertain labor situation looming, Pierce's move could allow him to lock in a deal worth an average of $24 million per season that would take him toward the twilight of his NBA career (he'd be on the backside of 36 when such a four-year deal expired).
If Pierce ultimately re-signs with Boston, this move might also free up a bit of cap space for the cash-strapped Celtics. It should be noted, however, that the savings would appear to be minimal and Pierce's price tag in the final years of any deal would be prohibitive, particularly if the salary cap doesn't rise accordingly in the new CBA.
Only time will tell how this all plays out. Pierce will give the Celtics first crack and there's potential to essentially guarantee he ends his career in Boston. But Pierce now also boasts the option to run for the hills if he doesn't like how the 2010-11 team is constructed. As an unrestricted free agent, he could command as much as $93 million for a four-year deal with any other squad. With teams like Chicago, Miami, and New Jersey seemingly shedding cap space by the minute, Pierce likely would draw heightened interest on the open market, particularly those scorned by the LeBron-Wade-Bosh triumvirate.
Pierce's agent, Jeff Schwartz, has the reputation of being a shrewd negotiator and will force the Celtics to be aggressive in attempting to keep Pierce, particularly before he can be wooed by potential suitors. But Pierce is just the first domino to fall and it seems a decision from coach Doc Rivers won't be far behind. While Celtics president of basketball operations Danny Ainge stressed last week that he wanted to keep the core of this team together moving forward, Boston could look completely different in a hurry if Pierce, Rivers and Ray Allen -- another unrestricted free agent -- head out of town.
So what happens if Pierce and the Celtics can't hammer out an extension? The Celtics won't immediately be able to establish themselves as players in the free-agent bonanza as Pierce and Allen currently boast cap holds of more than $40 million combined. The Celtics would have to renounce their rights to Pierce, a risky proposition that would renounce his Bird Rights, which allow Boston (and the rest of the league) to soar over the salary cap to re-sign its own free agents.
After the Celtics lost Game 7 of the NBA Finals to the Los Angeles Lakers, Pierce alluded to the possibility of opting out, saying, "Man, stuff's going so fast, truthfully, I don't really know what to think right now. I'm just reeling from this loss. I'm going to sit down with my family, wind down a little bit, then figure it out."
He's figured it out, and now it's up to the Celtics to find a figure that makes Pierce prolong his stay in Boston.
Here's the nuts and bolts from ESPN.com's Marc Stein:
Add one more marquee name to the most anticipated free-agent class in NBA history: Paul Pierce.

Pierce's agent, Jeff Schwartz, told ESPN.com that Pierce has notified the Boston Celtics that he will opt out of the final year of his contract before Wednesday's deadline to do so, which will make Pierce an unrestricted free agent for the first time in his career.

"Pierce is opting out" said Schwartz in a text message to ESPN.com.

By opting out, Pierce will forfeit next season's $21.5 million salary but becomes eligible to sign a new four-year deal with the Celtics worth a maximum of $96 million and can receive four-year offers from other teams worth a maximum $93 million.

It is unlikely Pierce would receive a contract longer than four years, because a fifth season would begin when Pierce was 37 and -- under the league's over-36 rule -- would have costly salary cap implications for any team signing him.
Click HERE to read the full story.