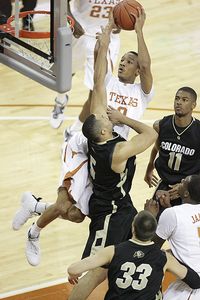 Brett Davis/US Presswire
Boston signed first-round draft pick Avery Bradley Friday.The Boston Celtics signed first-round draft pick Avery Bradley Friday.
Terms of the deal were not disclosed, but the 2010-11 rookie scale suggests Bradley will earn $1.18 million in his first season. The scale escalates in years 2 ($1.27 million) and 3 ($1.36 million) before options kick in.
Bradley, who injured his left ankle while working out for Oklahoma City on June 13, saw his draft stock slide a bit and fell to the Celtics at No. 19. He will required a scope on the ankle and be sidelined for about six weeks as he recovers. Bradley will not play in the Celtics' summer league next week, but hopes to be ready for training camp.
"As of right now, I'm just looking to get back and get ready so I can start training camp," Bradley said last week when he was introduced at the team's practice facility in Waltham.
The 6-foot-2 guard averaged 11.6 points, 2.1 assists, and 1.3 steals per game last season at Texas, while being named to the Big 12 All-Freshmen team. As a senior at Findlay Prep in Nevada, Bradley guided the school to a 33-0 record and was named ESPN Rise's national player of the year. He was also ranked the No. 1 high school prospect in the country by ESPNU.