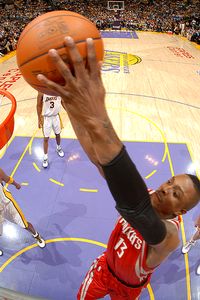 Andrew D. Bernstein/NBAE/Getty
Von Wafer goes up for a dunk against the Lakers during the 2009 NBA playoffs.On the surface, the addition of guard Von Wafer provides Boston will a sharpshooter who can score points off the bench. But dig deeper into Wafer's stats and you'll find that he's not just a chucker.
During his 2008-09 season with the Houston Rockets, Wafer averaged nearly as many shots per game at the rim (2.4 per game) as he attempted 3-pointers (2.6). What's more, he converted 60 percent of those shots around the basket, showing he can finish when he beats a defender off the dribble and gets to the rim.
Don't discredit how important that is. One of the knocks on Nate Robinson last season was his inability to finish when driving to the hoop, which encouraged teams to let him drive. The three-time slam dunk champ converted just 32 percent of his shots at the rim, and the Celtics would certainly like to see that spike back to towards his 2009 season with the New York Knicks, where Robinson converted 60 percent of his at-rim attempts, while attempting 4.1 shots per game there.
The Celtics need shooters, but it's indisputable that the closer to the basket you are, the easier it is to score points. Finding guards that can finish at the rim is a huge advantage as Boston looks to inject some offensive punch into its second unit.