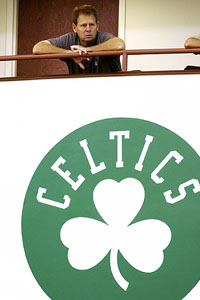 Brian Babineau/NBAE/Getty
Celtics president of basketball operations Danny Ainge watches over training camp in Waltham in 2005.The Boston Celtics anticipate another long season and wouldn't mind playing deep into the month of June again in 2011. So to combat the travel-heavy NBA schedule, the team made the decision to hold training camp in its own backyard.
Boston plans to operate this year's camp out of its practice facility, the Sports Authority Training Center at HealthPoint in Waltham, starting later this month. The team spent much of its last three training camps on the road, traveling to Europe in 2007 before consecutive treks to Newport, R.I.
Celtics president of basketball operations Danny Ainge said the team spends enough nights in hotels during the season and will enjoy the comforts of home during training camp.
"When I played with the Celtics, we never went away," said Ainge. "There's a lot of things that we can do here, including team building. Plus we have a lot of our own health facilities, our training rooms, and our weight rooms here.
"Guys can sleep in their own beds. It's a long season, so we're trying to combat that."
After uniting the Big Three of Paul Pierce, Ray Allen, and Kevin Garnett during the summer of 2007, the team trekked to Rome and London for training camp and a pair of exhibition games. The starting five shaved their heads to mimic Garnett's bald look and the team's all-for-one "Ubuntu" philosophy was born during the trip.
The success of that road camp -- Boston won its 17th world title in 2008 -- led the team to set up shop at Salve Regina University each of the past two seasons. It was assumed the team, its core still intact, would head back to Newport again this year, but Pierce last month suggested a change of pace.
During his Boston-based basketball camp, Pierce told The Boston Globe, "I think it would be good for this group to get away. I'm really getting tired of Newport. Really, I want to go somewhere else. … Newport is good, but I want to go somewhere else. It would be good to get away with this type of group, when you have Jermaine [O'Neal] and [Shaquille O'Neal] added to the roster."
Pierce and Co. will get a change of scenery, but won't necessarily get away. Ainge is confident the team can find championship chemistry from its home turf. After all, it worked for his Celtics during the 1984 and 1986 campaigns.