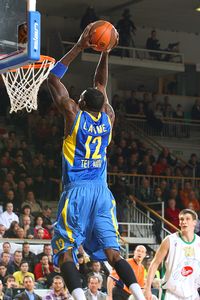 Ales Fevzer/Getty Images
Former UMass product Stephane Lasme is one of three with invites to Celtics training camp.The Boston Celtics have extended training camp invites to former UMass product Stephane Lasme, Southern Indiana's Jamar Smith, and LSU's Chris Johnson, according to a league source.
If any of the trio elects to camp in Boston, they would be considered longer shots to make a roster that's already bursting at the seams with 15 players under contract for the 2010-11 season (not including Tony Gaffney and Oliver Lafayette, who boast non-guaranteed contracts), but could add depth and competition when the Celtics open camp on Sept. 28. in Waltham.
Golden State drafted Lasme in the second round (47th overall) of the 2007 draft, but was waived after logging just four seconds of floor time with the Warriors. He spent time with the Los Angeles D-Fenders of of the NBDL before being signed to a 10-day contract by an injury-depleted Miami Heat in March of 2008. After appearing in 15 games for Miami, he's bounced from Euroleague club Partizan Belgrade to Israeli club Maccabi Tel Aviv in recent years. The 6-foot-8 forward is currently under contract with Russian squad Spartak Saint Petersburg.
Smith might be the most intriguing of the bunch. He's a 6-foot-3 shooting guard, who starred for the University of Southern Indiana after transferring to the Division II power from the University of Illinois. He set a school record for 3-pointers made (108) last season and averaged 20.2 points per game last year at USI.
Johnson is a 6-foot-11 center, who averaged 7.7 points, 7.2 rebounds, and 2.7 blocks per game in his senior season with the Tigers in 2008-09. He'd likely boast a pair of giant-sized supporters in fellow LSU products Shaquille O'Neal and Glen Davis.
The Celtics previously extended camp invites to Northeastern's Matt Janning and Michigan's DeShawn Sims, but both players found guaranteed contracts as Janning inked a multi-year deal with the Phoenix Suns and Sims signed with the POAK basketball club in Greece. Boston also invited UConn's Jeff Adrien, but he elected to camp with the Golden State Warriors. Some younger players see better opportunities outside of Boston, where rosters aren't so crowded (particularly with an abundance of proven talent).
The Celtics worked out Adam Morrison, Rashad McCants, Cuttino Mobley, and Trenton Hassell this week, which could lead to even more talented bodies at camp, should the team elect to invite any of those players before camp arrives.