BOSTON -- Stephane Lasme thought he had to sacrifice his NBA dream when he was informed he had to cut ties with Russian club Spartak Saint Petersburg and return to the United States to complete residency requirements.
But as it turned out, he might have unknowingly stumbled upon his best opportunity at a second chance in the league.
Lasme's incredible basketball odyssey has taken him from his native Gabon in west Africa, to Amherst in Western Massachusetts, to Oakland and the West Coast for his first taste of professional hoops. That journey resumed in Miami before he went international with stops in Serbia, Tel-Aviv and Russia over the past three years.
It was in Italy this summer where Lasme received word that, if he didn't return stateside and spend a year working in America, he might lose his residency here, preventing him from being with his wife and daughter, who live in Marlborough, Mass.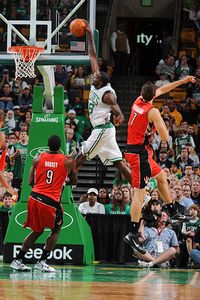 Steve Babineau/NBAE/Getty
Stephane Lasme goes up for a big dunk in Boston's win over Toronto Sunday."Basically, I knew I had to make a choice between not seeing my family and taking [more] money [to play basketball overseas] or seeing my family and not taking that much [money]," said the 6-foot-8 power forward. "For me, the choice was obvious."
So, in September, Lasme informed Spartak Saint Petersburg that he could not honor the two-year contract he had signed in July and, after five days of training camp with the team, returned to the States to be with his wife (and college sweatheart), Anastasia, and 17-month-old daughter, Lily.
Lasme's agent put in a call to the Celtics to inquire about a potential workout and, two weeks before Boston's training camp opened, he was invited for a pickup game with other roster hopefuls, where he impressed Celtics president of basketball operations Danny Ainge enough to earn one of four camp invites the team extended this season.
Two weeks into Boston's preseason, Lasme finds himself on the cusp of an NBA job, with Celtics coach Doc Rivers indicating after Sunday's 91-87 triumph over the Toronto Raptors that Lasme has "a great shot of making our team."
It's the type of script Hollywood laughs at. Lasme essentially abandoned his dream and found an even better situation back in America. Now he's fighting to ensure this dream isn't dashed.
"I'm just going to go hard," Lasme said of the competition for Boston's final roster spot. "That's the only thing I know how to do."
Lasme's story was already wild enough before this latest chapter. He grew up playing soccer, his country's more familiar pastime. But after sprouting to his current 6 feet, 8 inches in high school, he soon gravitated to basketball, a sport he played for the first time at age 15.
Five years later, he landed in Boston with the goal of learning the English language and playing college hoops. In fact, the unassuming Lasme walked onto the campus of Boston University one day and told then-coach Dennis Wolff that he wanted to play for him.
"[Wolff] said, 'It doesn't work like that,' and explained to me that... I had to actually take the SAT test, the English test, and go to basketball camps," recalled Lasme. "Between February [of 2003] and the following school year, I had to take all the tests. So I studied English for six months, took the SAT, the English course, and went to a [basketball] camp in New Jersey. The UMass coach [Steve Lappas] was there, saw me play, and offered me a scholarship."
At UMass, Lasme starred for four seasons, earning Atlantic 10 Player of the Year honors for the 2006-07 campaign, a season in which he registered four triple-doubles, reaching double-digits in blocks in each of those games (he ultimately passed Marcus Camby as the school's all-time and single-season leader in rejections).
The Golden State Warriors drafted Lasme in the second round (46th overall) of the 2007 draft, but he appeared in only one game, playing a mere four seconds, before being waived on Nov. 17. The Miami Heat signed him to a pair of 10-day contracts before employing him for the rest of that 2007-08 season. He appeared in 15 contests, averaging 5.5 points, 3.5 rebounds and 1.5 blocks per game.
Lasme was waived by Miami that offseason and signed with Euroleague squad Partizan Belgrade in Serbia before moving on to Maccabi Tel Aviv of the Israeli League the following year. Russia was next, but fate intervened.
"Since I left college, I've spent more time out of the country [than in it]," explained Lasme, who will turn 28 in December. "My wife and baby are Americans, so in order to have the chance to see them, I had to get a job here."
Little did he know he'd get a chance at the NBA job he'd quietly been dreaming about since his first go-around in the league fizzled.
Last Wednesday night in Manchester, N.H., Lasme forced the Celtics to take a deep look at him. He popped off the bench and scored 12 points over seven dizzying minutes to end the game, bringing Kevin Garnett to his feet more than once with a pair of big dunks in a lopsided triumph over the Philadelphia 76ers.
On Sunday, Lasme threw down an emphatic one-handed jam, racing past Toronto's Andreas Bargnani, while producing the key play in Boston's 91-87 triumph over the Raptors. As Boston weighs the possibility of keeping someone like Lasme for the 15th and final roster spot, he's making quite an impression on those in charge.
"I like him a lot," said Rivers. "He just does everything -- he has energy, he has a high basketball IQ, he's athletic. He's probably our most athletic player, him and [point guard Rajon] Rondo... He has a great shot of making our team. I think he's terrific."
Rivers had said earlier in camp that the Celtics desired a wing player who could shoot the ball for that final roster spot. Von Wafer, whose contract is not fully guaranteed, remains the guy to beat, especially with guard Delonte West scheduled to miss the first 10 games of the season due to a suspension.
But if Lasme continues to play like he has, it will be tough to keep him off the final roster. He's using his athleticism to get to the rim, negating the need for a shooter by generating high-percentage scoring opportunities around the basket.
The trouble with Lasme's situation is that the team knows he's bound to the region due to the immigration issues. He admitted Sunday that he'd be open-minded to potentially latching on with the Maine Red Claws of the NBA Development League, especially given recent changes to allocation rules that could allow Boston to sneak him to its minor league affiliate as a final camp cut.
"It's an option that I've thought about with the new rule [about allocation]," admitted Lasme. "Maine is not that far away from home. I'd rather be closer to my family than being away."
Lasme knows that signing with Maine would also get his foot in the door of the Celtics organization, but he'd prefer to simply kick in that door at this point, especially as Wafer and Mario West do little to distinguish themselves in the battle for the final spot. The Celtics have also pledged to keep the best 15 players coming out of camp, and, right now, Lasme is one of the 15 best.
Landing an NBA job while getting to see his family would be serendipity for Lasme.
"I've always thought it was a dream of mine to play [professional basketball]," he said. "Even if I kept that secret for myself, I didn't talk about it too much, it's always been a dream of mine. After what I did overseas, I thought I set myself up pretty good for another shot."
And that dream opportunity might have never come had he not chose family over his dreams.