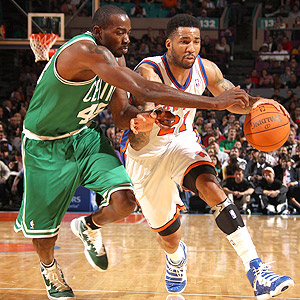 Nathaniel S. Butler/NBAE/Getty Images
Stephane Lasme's defense could help him stick in Boston.NEW YORK -- Celtics coach Doc Rivers was brutally honest when he admitted Wednesday night that he knew next to nothing about Stephane Lasme after being informed a week before training camp that the University of Massachusetts product would be joining the team in Newport, R.I.
A month later, Rivers has gone out of his way to rave about the kid and his "excellent" chance to make the Celtics' final 15-man roster.
"A week before camp, [Celtics president of basketball operations] Danny [Ainge] said to me, 'Hey, we're going to bring in this guy and we like him a little bit.' He's been terrific. We weren't sure what he was at first -- we didn't know if he was a 3 or a 4. Halfway through camp, we were still not sure, but we realized he could play either position. Defensively, he's an NBA player right now, there's no doubt about it. He has an NBA IQ as well, for a young kid."
Earlier this week, we detailed Lasme's amazing basketball odyssey and what's at stake for him with the Celtics. Now let's crunch some numbers and examine if the Celtics can afford to keep him around.
Lasme's defensive talents are obvious and few coaches will appreciate that sort of dedication like Rivers. But Boston's coach has stressed a desire for more scoring potential from the final bench player and admitted that Lasme needs to hone his shooting skills.
Not that Lasme is an offensive abyss. He simply hasn't shown the ability to consistently make perimeter jumpers during his brief NBA experience.
Through five preseason contests with the Celtics, Lasme is averaging 4.4 points, 2.8 rebounds, and 0.6 blocks over 13.2 minutes per game. He showed the potential to score in bunches when he spilled off the bench to pour in 12 points over seven minutes in Boston's exhibition opener against the 76ers last week in Manchester, N.H. He's only totaled 10 points over 53 minutes the past three games, but is shooting a robust 57.1 percent, having made 5 of 7 attempts in those games.
Look at his numbers from the 15 NBA games he played with the Miami Heat in 2008 and Lasme averaged 5.5 points, 3.5 rebounds, and 1.5 blocks over 20.2 minutes per game. The numbers at HoopData show he took more than half of his shots at the rim, but still shot a serviceable 42 percent in the mid-range (16 to 23 feet).
Watch Lasme before games or after practice and it's clear he can shoot. He's spent much of his time overseas the past two seasons honing his shot and his ball-handling. It simply hasn't carried over to games quite yet. Lasme took a 20-foot jumper against the Knicks that found back iron in the second quarter, then retreated back to his comfort level, scoring his only basket of the game on a layup off a feed from Rajon Rondo.
Friday's game in Toronto could be a big one for Lasme. The Celtics are likely to go easy with their starters, hoping to trot most of them out in front of a "home" crowd Saturday night during a rematch with the Knicks in Hartford, Conn. With only one other exhibition after Saturday's game, a tuneup against the Nets leading up to the season-opener against the Heat on Oct. 26, the Celtics could be focused on ramping up their starters after Friday's tilt.
Rivers wouldn't commit to a timetable for when the final batch of cuts will come -- the Celtics must trim two players, with Lasme, Von Wafer, and Mario West vying for the final job -- before the regular season arrives.
Before Wednesday's game in New York, Rivers continued to suggest he likes what he's seen from Lasme.
"I think he has an excellent chance [to make the roster]," said Rivers. "We have some tough decisions coming up. We'll make the ones that are right for the team."
Boston's potential need for shooting at the guard spot with Delonte West suspended for the first 10 games of the regular season could aid the cause of Wafer, who has a partially guaranteed contract and is hoping to hold onto his current grasp on a final roster spot. The Celtics could try to sneak Lasme through to the Maine Red Claws, the team's D-League affiliate, utilizing the new allocation rule that allows a team to sign three of its final camp cuts. But they'd have to be confident that no other NBA squad would swoop him up for the end of their bench.
One thing to consider: In that small NBA sampling with the Heat, Lasme's numbers weren't too far off from what Celtics defensive stopper Tony Allen provided last season. Allen averaged 6.1 points, 2.7 rebounds, 1.3 assists, and 1.1 steals per game over 54 appearances before signing with the Grizzlies in the offseason.
For a Celtics team that's already thin at the wing (Marquis Daniels is the only pure 3 behind Paul Pierce), having an NBA-caliber defender that could also push teammates in practice, offer the flexibility to play the 3 and the 4 in emergency situations, and bring a team-first attitude -- a lot of the traits that summarized a Rivers' favorite in Brian Scalabrine during his five years here -- might be too good to pass up.