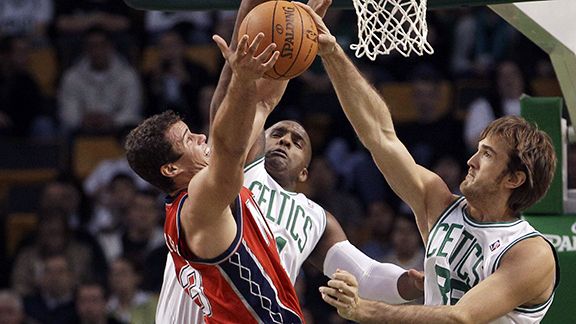 AP Photo/Mary Schwalm
Kris Humphries is rejected by the Boston tandem of Semih Erden and Glen Davis.BOSTON -- First impressions after the Boston Celtics defeated the New Jersey Nets 107-92 Wednesday night in their preseason finale at the TD Garden.
HOW THE GAME WAS WON
Ray Allen fueled a furious third-quarter rally by scoring all 14 of his points in less than 11 minutes, hitting four shots, including a pair of 3-pointers, as Boston erased an 11-point deficit and breezed to its seventh victory of an eight-game preseason slate. Paul Pierce added a team-high 17 points on 6-of-9 shooting, while Shaquille O'Neal chipped in 12 points and 9 rebounds (nearly all of it coming in the first half, when he carried Boston's first unit).
TURNING POINT
Trailing by as much as 14 early in the second quarter, Boston's starters returned to the floor in the third quarter despite coach Doc Rivers' suggestion before the game that they wouldn't play into the second half. The Celtics' starters atoned by outscoring New Jersey 36-16 in the third, fueled by a ferocious 13-2 burst over less than four minutes to knot the game at 63. Boston soon embarked on another 13-2 run capped by an Allen trifecta for a 78-67 lead with 2:53 to go in the third.
STAT OF THE GAME
The Celtics shot a sizzling 78.9 percent in the third quarter, converting 15-of-19 field goals while putting up 36 points. This after shooting 47.2 percent in the first half (17-of-36).
UNSUNG HERO
Glen Davis chipped in 14 points off the bench, connecting on 6-of-9 shots, while grabbing seven rebounds over 23 minutes. Davis got to the free throw line early, then stepped outside and drilled some mid-range jumpers as Boston pulled away.
WHAT IT MEANS
The exhibition season is over with Boston steamrolling its Atlantic Division brethren while posting a 7-1 record. The only loss? A game in Philadelphia in which none of Boston's starters played. The Celtics now have a five-day stretch to get ready for the season-opening blockbuster against the much ballyhooed Miami Heat, time Boston will need to get healthy and fine-tune some areas before the games truly matter.