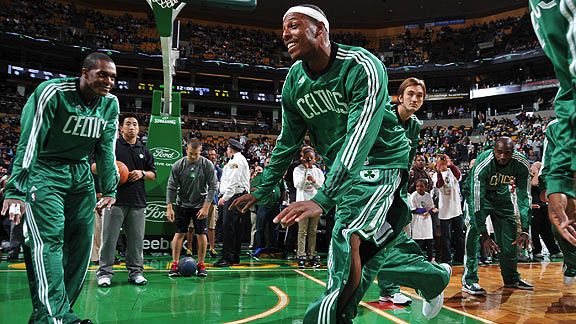 Brian Babineau/NBAE/Getty Images
Finally healthy, Paul Pierce has a lot more to smile about this season.After a season with so many injuries he considered shutting it down, Paul Pierce says he feels better than he has in a long time writes ESPN Boston's Jackie MacMullan:
WALTHAM, Mass. -- Paul Pierce was out to lunch at Johnny Rockets in his native Los Angeles this past summer when he noticed a young man come in, buy a burger, and do a double-take when he spotted the Celtics star. Instead of approaching Pierce, the teenager quickly dashed out of the restaurant.

Pierce wasn't sure why the kid was in such a hurry -- until he returned about 10 minutes later.

"He came back with the biggest Lakers flag I've ever seen," Pierce said. "Asked me to sign it. I snatched that thing from him and threw it [across the room]."

No, Pierce hasn't recovered from the excruciating Game 7 loss to the Los Angeles Lakers in the NBA Finals last June. His frustration over missing 10 of 15 shots in the deciding game lingers, along with the knowledge that opportunities to win it all are fleeting, particularly when you reach an age where your body can betray you at any time, as Pierce's repeatedly did throughout the 2009-10 season.

AP Photo/Charles Krupa

Paul Pierce is confident this season will end on a happier note than the 2009-10 campaign did.The fact that he is finally healthy -- "that didn't happen until the summer," Pierce explained -- and Kevin Garnett has fully recovered from knee surgery are two reasons why Pierce likes Boston's chances as the team opens its season Tuesday against the locked-and-loaded Miami Heat.

"I feel great for the first time in a long time," the Celtics captain said.

The 2009-10 campaign was so physically and mentally challenging for Pierce that he seriously contemplated shutting it down midway through the season. Injuries to his knee, foot and thumb were well documented, but Pierce revealed he also suffered from a painful and persistent turf toe that forced him to wear a brace and a half-inch of padding in his shoe throughout the Finals.

The first sign of trouble was a sore knee that wouldn't respond to treatment and forced Pierce to undergo "minor" surgery last Dec. 23 to clean out an infection. Doctors warned him that fluid would build up in the repaired knee, but Pierce wasn't expecting to have it drained nearly every week. Sometimes, Pierce said, the knee would "pop open," squirting foul liquid across the locker room.

"If you are interested, I have the video to prove it," he said.
Click HERE to read the full story.