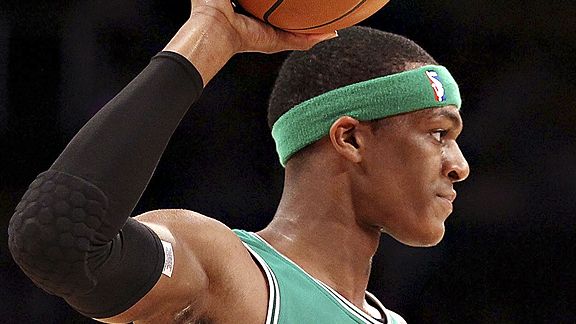 Christian Petersen/Getty Images
Rajon Rondo will need to turn that headband over if he wants to wear one this season.While point guard Rajon Rondo maintained throughout the preseason that his lack of a headband was a personal choice and that it would likely to return for the regular season, Celtics owner Wyc Grousbek suggested during a radio appearance Tuesday that it had more to do with a league mandate preventing players from wearing upside-down headbands.
An NBA spokesman confirmed Tuesday that the league updated its uniform rules for the 2010-11 season preventing players from flipping over the league-issued headbands (with the familiar Jerry West silhouette logo stitched in). Any such action is likely to result in a fine for the player.
During an appearance on The Hill-Man Morning Show on WAAF (97.7, 107.3 FM), Grousbek pointed out the new rule.
Will Rondo abide by the new decree and flip over his familiar headwear, or will he continue to play without one during the regular season? We'll find out when the NBA season tips off Tuesday night with the Celtics hosting the Heat.
(h/t: North Station Sports)