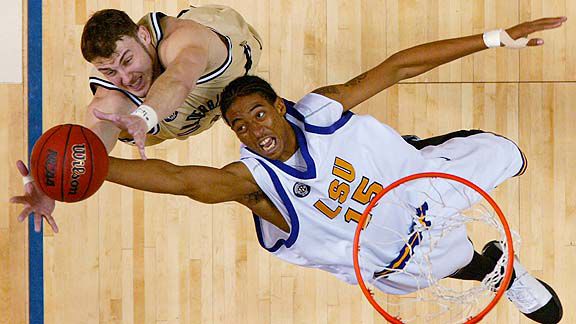 Andy Lyons/Getty Images
With their first-round pick, the Maine Red Claws selected Magnum Rolle.The NBA Development League held its 2010 draft Monday night and the Maine Red Claws filled out their roster with nine selections, including top choice Magnum Rolle, an LSU product who played alongside Glen Davis on the team's 2006 run to the Final Four (he later transferred to Louisana Tech for his junior and senior seasons).
Rolle is a former second-round pick (51st overall) of the Oklahoma City Thunder in the 2010 draft. He was traded to the Indiana Pacers, where he signed a non-guaranteed deal and, despite a solid summer showing, was among the final cuts.
Maine's nine selections (see below) are expected to join six camp invitees -- Stephane Lasme, Tiny Gallon, Mario West, Jamar Smith, Paul Harris, and Lamonte Ulmer -- in competing for spots on the final roster. The new D-League allocation rule allowed Boston to shuffle Lasme, Gallon, and Smith to its minor league affiliate, while West and Harris were with the Red Claws last season. Ulmer earned an invite after an open tryout in Boston last month.
2010 MAINE RED CLAWS DRAFT PICKS