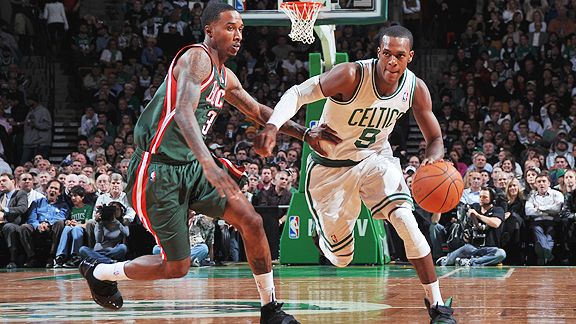 Brian Babineau/NBAE/Getty Images
Rajon Rondo's feet were ailing during Wednesday's game vs. the Bucks.Celtics coach Doc Rivers sorta sneaked it in during his postgame confab with the media, noting that his team's execution down the stretch was awful and, oh yeah, otherworldly point guard Rajon Rondo's feet were bothering him.
Wait, what was that about Rondo's feet?
"One time he knelt down, I was going to use a timeout, but I didn't want to," said Rivers. "So that's why, two times in a row, we had Paul [Pierce] bringing the ball up the floor... I was trying to get through the clock.
"[Rondo] told me after the game he's fine."
Rondo logged a team-high 47 minutes, earning only a three-minute break spanning into the second quarter and a similar length rest at the start of the fourth frame, before playing the entire extra session. Rivers didn't pinpoint when his feet went sore, but admitted it's always concerning when your point guard is grabbing at that area.
"Whenever someone says feet, it scares the heck out of you," said Rivers.
Despite a sluggish start, Rondo finished with 17 points, 15 assists, and 8 rebounds, flirting with a triple-double even with ailing hoofs. He connected on 7-of-10 shots overall, his drives to the rim providing much-needed offense throughout the first three quarters when Boston's offense sleepwalked on the second night of a back-to-back.
With 82 assists through five games, Rondo continues to set new marks for early season success. That total is the most in NBA history, sliding ahead of John Stockton and Magic Johnson (who previously shared the record at 81).
It will be interesting to see if the Celtics can afford to limit Rondo's minutes -- he's averaging a whopping 41.6 minutes per game so far -- especially with the team thin at backup point guard as Delonte West serves a 10-game suspension to start the season.