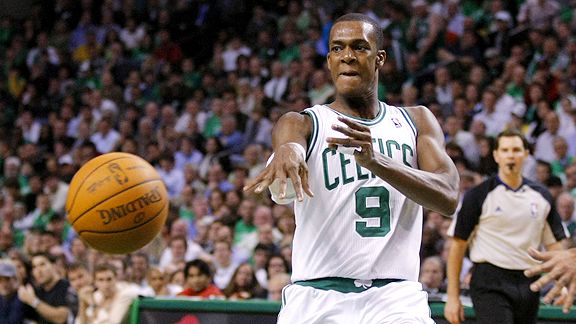 David Butler II/US Presswire
Rajon Rondo is off to the best start of any point guard in NBA history.Rajon Rondo is on pace to break John Stockton's NBA record for assists. But only five games in, can the Celtics' point guard keep it up? ESPN.com's Jeremy Lunblad examines:
Last season, Rondo broke Bob Cousy's 50-year-old franchise records for assists per game and total assists. With due respect to Jo Jo White and Dennis Johnson, Rondo's prolific start in 2010 only confirms his status as the best pure point guard Boston has seen since Cousy.

The aforementioned Hall of Famers aside, the Celtics dynasty following Cousy is not generally associated with the point guard spot. Many Celtics squads have run the offense through other positions. John Havlicek led the team in assists seven times. Larry Bird did so five times. Even Bill Russell claims one such season. More recently, both Antoine Walker (3) and Paul Pierce (1) have filled voids at the one.

Of course, there were seasons in which no one filled this void. In Rick Pitino's first season in Boston, Dana Barros led the Celtics with 286 assists. At Rondo's current pace, he'd pass that total by December 1. Rondo has four 15-assist games this season and 17 in his career. Prior to him, no Boston player had registered 15 assists in a game since Sherman Douglas in 1995.

Despite the presence of the Big Three, there can be no doubt that the offense runs through Rondo. Consider that he has scored or assisted on 106 of the Celtics' 189 field goals, or 56.1 percent. That's the highest such percentage in the league, and only John Wall (52.9) is also producing on more than half.

Along the same lines, Rondo has assisted on almost half -- 49.7 percent to be exact -- of his teammates' field goals. This includes assists on nearly 60 percent -- 58 of 97, or 59.7% -- of the FGs made by the "Big Three" of Pierce, Kevin Garnett and Ray Allen.

Rondo's success stems from his ability to effectively integrate all of the weapons around him. He's doled out at least 14 assists to four different players this season, with Kevin Garnett (23) his most frequent accomplice followed by Paul Pierce (19), Ray Allen (16) and Glen Davis (14).
Click HERE to read the full story.