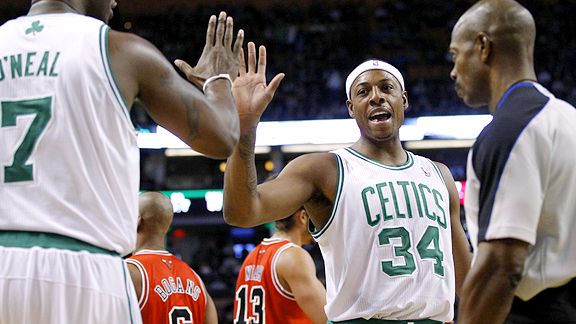 David Butler II/US Presswire
Paul Pierce and the Celtics needed overtime to fend off the Bulls.BOSTON -- First impressions after the Boston Celtics defeated the Chicago Bulls 110-105 Friday night at the TD Garden.
HOW THE GAME WAS WON
The Celtics built a 16-point second-half lead, but allowed the Bulls to rally ahead in the fourth quarter before forcing overtime. Nursing a three-point cushion in that extra session, Paul Pierce found Ray Allen cutting baseline for an emphatic one-handed jam and a five-point lead with 79 seconds to go to escape with the win. The Bulls boasted a chance to tie late in overtime, but Kevin Garnett punched the ball free as Joakim Noah sprinted the floor, forcing a turnover that sealed the victory. Allen finished with a team-high 25 points on 9-of-12 shooting, while Garnett (16 points, 10 rebounds) and Rajon Rondo (10 points, 11 assists) added double-doubles.
TURNING POINT
The Celtics should have put the game away early in the second half. Trailing by four entering the second quarter, Boston scored 18 of the frame's first 20 points, opening a 12-point cushion behind an offensive explosion by Marquis Daniels (11 first-half points). That lead ballooned to 16 just 96 seconds into the third quarter and stood at 14 with five minutes to play in the frame, but evaporated quickly. Chicago's C.J. Watson drilled a 3-pointer with 5:43 to play in the game and the Bulls owned an 82-81 advantage, forcing Boston to rally just to force an extra session.
STAT OF THE GAME
The Celtics put seven players in double figures, including Glen Davis (15 points) and Daniels (13 points), getting 37 points from a bench that had struggled mightily to generate offense over the first five games of the season.
UNSUNG HERO
Once again in crunch time, it was Davis the Celtics leaned on with the core four starters. Big Baby logged a whopping 37 minutes and also connected on 7-of-8 free throws, including some clutch ones in overtime to seal the win.
WHAT IT MEANS
The last thing these aging Celtics need is more overtime games, but the bottom line is Boston is finding a way to win games -- and home games at that -- which is an encouraging sign. There's things to clean up, but the Celtics boast a 5-1 record as they prepare for a daunting four-game road trip next week with stops in Oklahoma City, Dallas, Miami, and Memphis.