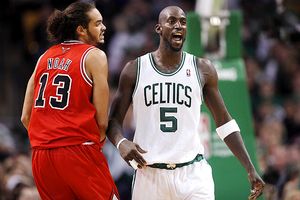 David Butler II/US Presswire
Joakim Noah and Kevin Garnett got intense again Friday night at the TD Garden.BOSTON -- Boston Celtics forward Kevin Garnett didn't spend much time addressing his spat with Detroit Pistons forward Charlie Villanueva on Friday, but sent a terse message amidst the fallout from Villanueva's suggesting Garnett called him a "cancer patient" during Tuesday's game in Detroit.
"He's a nobody," Garnett said after the Celtics' 110-105 overtime win against the Chicago Bulls at TD Garden. "I'm not paying attention to nobodies anymore."
Not to be outdone, Chicago forward Joakim Noah sounded off on Garnett and his propensity to rile up opponents. Noah believed Garnett helped work him up before halftime, when Noah was assessed a technical foul while leaving the floor.
"I don't even want to get into that," Noah said. "I think … whatever. He is who he is. At the end of the day, it cost me $2,000 today [for the technical foul]. Just getting upset at his dumb [stuff]. I'm not getting involved in it. It's stupid. I let his dumb a-- cost me $2,000, so I'm the dumb a--."
Click HERE to read the full story.