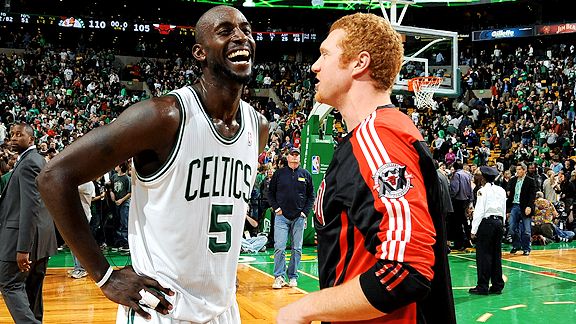 Steve Babineau/NBAE/Getty Images
Kevin Garnett and Brian Scalabrine share a postgame laugh.BOSTON -- The phone wasn't exactly ringing off the hook, but, as he tells the story, Brian Scalabrine still put a hard sell on the Chicago Bulls this offseason.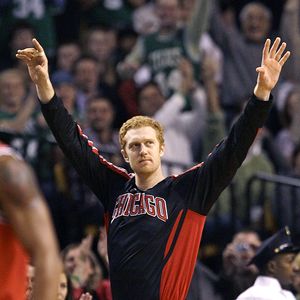 AP Photo/Charles Krupa
The Celtics and their fans were happy to see Brian Scalabrine back in Boston on Friday."We were talking to Chicago the whole [offseason], but I was talking to [Bulls general manager] Gar [Forman] and the holdout was that I wanted a statue next to Michael Jordan [outside the United Center]," Scalabrine explained Friday before the Celtics beat the Bulls 110-105 in overtime at TD Garden. "He was like, 'A lot of good players have come through Chicago, and I don't know if I can guarantee we can do that.' So I said, 'I'm going to hold out until you promise me that.' At the end of the day, I said, 'Fine, you don't have to put the statue up.'"
And with that, Scalabrine and his family crammed five years worth of memories into moving boxes -- a task he did without the aid of movers, he points out -- and uprooted to Chicago for a chance to keep his NBA career alive after the Boston Celtics decided they would not retain his services moving forward.
Scalabrine returned to Boston on Friday for the first meeting between his new team and the one he still holds an attachment to after the overwhelming success it enjoyed the past three seasons (including winning a world title in 2008). He stressed he's not disappointed with the way things played out this offseason, in large part because of the way former Celtics assistant coach Tom Thibodeau -- now the Bulls' first-year head man -- recruited him for a veteran role with a young team.
Click HERE to read the full story.