OKLAHOMA CITY -- A collection of news and notes before the Boston Celtics visit the Oklahoma City Thunder Sunday night at the Ford Center:
--RONDO MAINTAINS HIS FEET ARE FINE--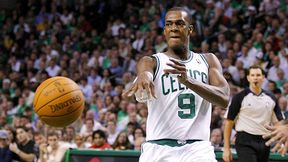 David Butler II/US Presswire
Rajon Rondo says his feet remain fine despite a mild case of plantar fasciitis.Celtics point guard Rajon Rondo maintained that his feet, which coach Doc Rivers suggested are suffering from a mild case of plantar fasciitis, are "fine" after receiving some pregame treatment before Sunday night's tilt.
Rondo said he rested for much of Saturday, including the team's flight to Oklahoma City for the start of a four-game road trip, and reiterated his claim from Friday, saying "it's nothing to worry about."
Regardless, Rivers remains concerned, even if he's still fuzzy on what exactly plantar fasciitis is.
"I don't know what it means, literally," said Rivers. "We're not going to worry about minutes unless [Celtics trainer] Eddie [Lacerte] tells us to worry about it. But the history of [plantar fasciitis], we all know that's something that, if it starts flaring up, that gets bad. I've never had it, but people who have had it say it's extremely painful."
Even with his starters averaging heavy minutes through the season's first six games, topped by Rondo at 41.3 minutes per game (the Big Three are right behind him with Ray Allen at 39.2, Paul Pierce at 38.2 and Kevin Garnett at 34), Rivers noted that two overtime games have forced that number higher, and even then he's not overly concerned at this stage of the season.
"You've got to account for overtime and take those five minutes away, those minutes are all right," said Rivers. "And I really never care about minutes at the beginning of the season. Like last year, the more they play, it's almost better the first 10-15 games. You almost want to get your team back into the season, then after that, then you can start worrying about minutes. But the first 10-15 games, I really don't care about minutes."
--RIVERS: BEST BASKETBALL LIES AHEAD--
Despite a glistening 5-1 record, Rivers acknowledged that his team needs to play better moving forward. Even still, gutting out two overtime wins at home, while failing to play a complete game, leaves him satisfied as long as the team continues to build.
"I would prefer not [to play overtime games], but I'll take the wins," said Rivers. "Really, in both of them, we kind of let up in our execution, especially defensively, given up a lot of points late. The other night [vs. the Bulls], we were having a great defensive game, then with four minutes to go, all of a sudden we start breaking down. We've got a lot of improvement [to make]. I'll take our record and it's good to win games when you don't think you played great, but, as I told our team today, we have a lot of improvement to do, and that's good."