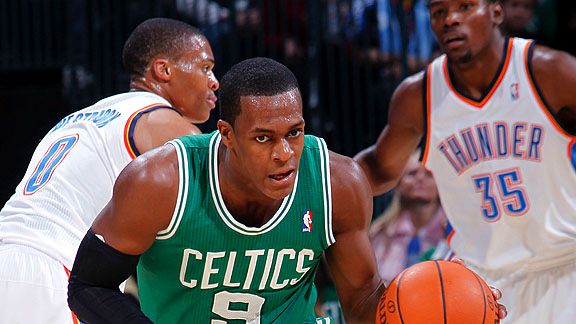 Layne Murdoch/NBAE/Getty Images
Rajon Rondo and the Celtics emerged from Oklahoma City with a solid win.OKLAHOMA CITY -- First impressions after the Boston Celtics defeated the Oklahoma City Thunder 92-83 Sunday night at the Ford Center:
HOW THE GAME WAS WON
For the first time this season, Boston's bench provided the spark the team desperately needed, keying spurts in each half that helped the Celtics build a big enough cushion to hang on when Oklahoma City made its charges. A four-man reserve unit of Glen Davis (8 points), Nate Robinson (9 points), Semih Erden (9 points) and Marquis Daniels (7 points) produced its most balanced output of the season, each player stepping up in different spots. Ray Allen scored a team-high 19 points on 8-of-16 shooting for the Celtics, while Kevin Durant produced a game-high 34 points on 11-of-22 shooting for the Thunder.
TURNING POINT
Oklahoma City made a furious third-quarter rally, trimming Boston's 21-point halftime lead to single digits before the end of the frame. When James Harden splashed a 3-pointer early in the fourth quarter, the lead dipped to six. But riding a second-unit lineup (with Allen mixed in), Davis made back-to-back 20-footers from the top of the key to push the lead back to 10. Big Baby soon added a 17-footer and Allen followed with a 3-pointer for an 88-71 cushion with 6:55 to go.
STAT OF THE GAME
The Thunder, which entered the game averaging an NBA-best 34.8 free hrow attempts per game, shot a mere 17 free throws, including seven in the second half.
UNSUNG HERO
Daniels finished a bench-best plus-8 in the plus/minus category, producing some early scoring that triggered Boston's initial run. The Celtics were down three -- Oklahoma City's biggest lead of the night -- with little more than four minutes to play in the first quarter when Daniels checked in for Paul Pierce. He quickly produced a pair of layups to key a 12-4 spurt to end the period. Boston never trailed again.
WHAT IT MEANS
The Celtics start a daunting four-game road trip on the right foot and, what's better, their starters played manageable minutes (well, besides Allen at 40 minutes) with the second end of a back-to-back looming Monday in Dallas. Sure, the C's made it a bit more dicey than it needed to be by allowing Oklahoma City to make a second-half charge, but they withstood it and punched back for a quality road triumph.