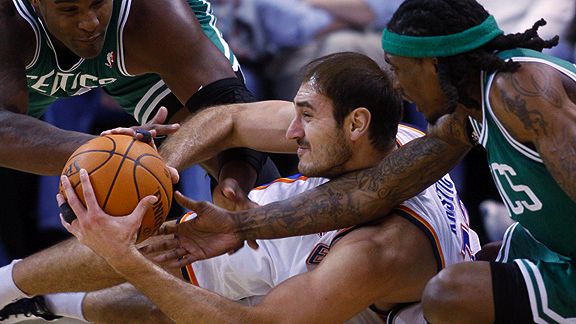 AP Photo/Sue Ogrocki
Marquis Daniels fights for a loose ball Sunday in Oklahoma City.OKLAHOMA CITY -- Christened the "Boston Bench Mob" by Shaquille O'Neal at the onset of training camp, the Celtics' reserves took great pride in the potential to be the best second unit in the league.
But through five games, the mob designation just didn't seem fitting, particularly if you go by Webster's definition:
mob | |mäb | noun

a large crowd of people, esp one that is disorderly and intent on causing trouble
Because of injuries and suspensions, the Celtics' reserves were limited in number and certainly didn't seem to be causing too much of a ruckus (save maybe for Glen Davis, who totaled nearly half of the bench's total point production over the first five games, thanks in large part to extended minutes with the starting unit).
But even as Boston waits for the return of O'Neal, the unofficial ringleader of this posse who has missed the past four games with a bruised right knee, and Delonte West, who proved to be the glue of the second unit during the preseason but is serving a 10-game suspension, the Celtics' bench is starting to bond.
For the first time this season, Boston received balanced output from a four-man bench of Davis (8 points), Nate Robinson (9), Semih Erden (9) and Marquis Daniels (7). The unit combined for 33 points -- the bench's second-biggest outburst of the season -- while lifting Boston to a 92-83 triumph over Oklahoma City on Sunday night at the Ford Center.
"That's our whole thing: the bench mob," said Daniels, who had a pair of layups late in the first quarter to spark a 12-4 burst that rallied Boston out of a three-point hole -- the Thunder's largest lead of the night -- that ultimately became a 21-point halftime advantage.
"We want to be the best bench, regardless of whether the starters are playing great or not. We want to pick them up. Like Nate was saying earlier [this year], we're a tag team. He helps [Rajon] Rondo; I help Paul [Pierce] and Ray [Allen], and so on. We've got each other's backs."
Click HERE to read the full story.