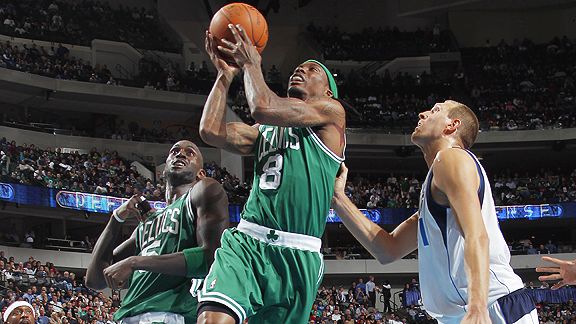 Layne Murdoch/NBAE/Getty Images
Marquis Daniels tries to get up a shot in traffic.Why did the Boston Celtics lose to the Dallas Mavericks Monday night at the American Airlines Center? The following list of second-chance opportunities generated by individual offensive rebounds sums it up pretty well (player with offensive rebound and time remaining, then the ensuing result):
1. Paul Pierce (11:15, 1st) - After foul, Pierce misses 21-foot jumper
2. Kevin Garnett (10:57, 1st) - Pierce misses 25-foot 3-pointer
3. Rajon Rondo (9:56, 1st) - Rondo misses tip
4. Jermaine O'Neal (6:01, 1st) - O'Neal misses 10-foot jumper
5. Garnett (5:58, 1st) - Allen misses layup attempt (Tyson Chandler block)
6. Garnett (5:54, 1st) - Garnett misses 6-foot jumper
7. O'Neal (5:41, 1st) - O'Neal turnover (Jason Kidd steal)
8. O'Neal (5:31, 2nd) - O'Neal misses tip-in
9. Rondo (2:14, 2nd) - O'Neal misses 12-foot jumper
10. Garnett (2:08, 2nd) - Garnett misses tip-in
11. Rondo (2:06, 2nd) - Rondo turnover
12. Allen (7:24, 3rd) - Allen converts layup
13. Rondo (0:54, 4th) - Garnett misses 4-foot jumper
14. Allen (0:02, 4th) - After foul, Garnett misses 21-foot jumper
The Celtics hauled in 14 offensive rebounds and generated a measly third-quarter layup out of it. No fouls draws, no free throws attempted. And that's not a reflection of the referees, who certainly put their whistles away for much of the night, but never appeared to miss anything too egregious (and were fair to both sides).
Boston only generated seven free throw attempts overall for the game and much of that can be traced to a jump-shot happy squad that seemed unwilling -- or unable -- to get to the rim. As Doc Rivers suggested afterward, Boston seemed content to stand around on offense, hold the ball, and fire away when the shot clock ran low. The Celtics hoisted a staggering 91 shots in 91 possessions (by comparison, Dallas took only 66 shots on the same amount of possessions) and settled for 31 mid-range jumpers (16-to-23 feet) and anther 18 shots from inside of 10 feet (but away from the rim).
Click HERE to read the full story.