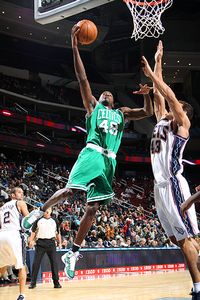 Ned Dishman/NBAE/Getty
Stephane Lasme underwent surgery to repair a stress fracture in his left foot.Stephane Lasme, the UMass product and a final camp cut of the Boston Celtics this preseason, underwent successful surgery Wednesday afternoon to repair a stress fracture in his left foot, according to the Maine Red Claws.
Lasme, who signed with Maine, the Celtics' NBA Development League affiliate, and hoped to work his way back to the parent club, will be sidelined "indefinitely." His surgery was performed by Dr. Gregory Pomeroy at Mercy Hospital in Portland, Maine.
"We were very excited to have Stephane Lasme on our team, and it is disappointing that Red Claws fans will have to wait to see what an incredible athlete and person he is," Red Claws president and general manager Jon Jennings said in a release. "First and foremost, however, our concern is with Stephane, and his health and career. We wish him the best in his recovery and look forward to seeing him playing at the Expo as soon as possible."
The loss of Lasme reverberates in Boston, where his gritty preseason play left Celtics coach Doc Rivers grappling with the decision to cut him. While Boston didn't have an immediate need for a player in the mold of Lasme (at 6-8, he didn't boast enough size for the team to consider even with a need for bigs with Jermaine O'Neal sidelined for 2-3 weeks with lingering soreness in his left knee), he was someone with a headstart on the Boston playbook that could have been recalled in a pinch if the injury bug stung again later this season.
Now it appears he's facing a lengthy recovery. Lasme started in Maine's preseason opener against Springfield and made the only shot he attempted, but was forced out of the game two minutes in due to the injury. He does not appear on Maine's final 10-man roster, but the team retains his rights. The NBA Development League season tips off Thursday and the Red Claws kick off their 2010-11 campaign Friday night with a visit from the Austin Torros.
Here's a look at Maine's final 10-man roster, which includes Tiny Gallon and Jamar Smith, the two other players assigned to Maine after time spent with Boston this preseason.
10 -- Lawrence Westbrook G -- 6-0 -- 190 -- Minnesota
12 -- Kenny Hayes -- G -- 6-1 -- 170 -- Miami (Ohio)
14 -- Jamar Smith -- G -- 6-4 -- 177 -- Southern Indiana
17 -- Lamonte Ulmer -- F -- 6-6 -- 195 -- Rhode Island
19 -- Mario West -- G -- 6-5 -- 223 -- Georgia Tech
23 -- Champ Oguchi -- G -- 6-5 -- 201 -- Illinois State
24 -- Paul Harris -- F -- 6-5 -- 235 -- Syracuse
34 -- Eugene Spates -- F -- 6-8 -- 235 -- Northeastern
44 -- Tiny Gallon -- F -- 6-10 -- 310 -- Oklahoma
50 -- Magnum Rolle -- C -- 6-11 -- 236 -- Louisiana Tech
To get down to 10 players, the Red Claws released guards Tajuan Porter and JaJuan Smith.