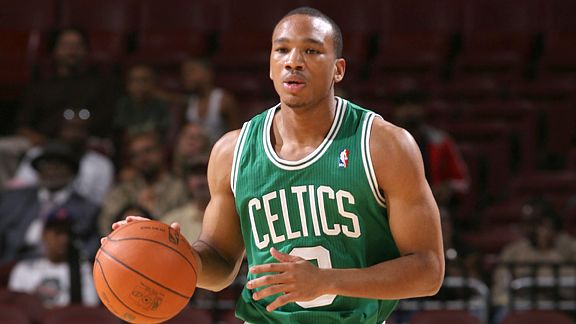 Joe Murphy/Getty Images
Celtics rookie Avery Bradley is healthy enough to get back on the court.Avery Bradley celebrated his 20th birthday Friday and his gifts included $20 from Nate Robinson (one dollar for each year of his existence) and a DNP, courtesy of coach Doc Rivers. Neither were likely at the top of his wish list.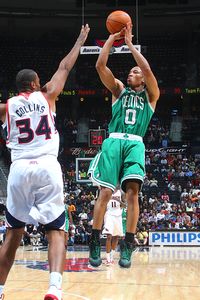 Scott Cunningham/Getty
Avery Bradley could play for the Celtics sooner than later now that they lost Delonte West indefinitely to a broken wrist.No, Bradley, Boston's first-round selection in June's draft, is scheduled to make $1.42 million this season (which is roughly $60,000 more than Shaquille O'Neal will bank at the veteran's minimum), so money isn't an issue.
And, deeming himself at nearly full health after offseason ankle surgery, Bradley is clearly eager to get back on the court to showcase his abilities, but is stuck in a bit of a holding pattern due in part to his lack of participation to this point.
"Not being able to play as much as I want to," Bradley answered before Wednesday's game against the New Jersey Nets when asked what the most challenging aspect of the injury has been. "I started at every level when I was younger, but I'm taking this as a learning process. I'm just excited to be here in the NBA; I'm blessed to be here. I'm just anxious to get better, and when my chance comes, I'll be ready."
That opportunity might have arrived just hours after Bradley spoke to reporters, when Boston backup guard Delonte West crashed to the floor after a driving layup, fracturing his right wrist and shelving him indefinitely. It's bittersweet for Bradley, who spent much of the early part of his rookie season with West, the two working out together at the team's practice facility while the rest of their teammates were on the road (West served a 10-game suspension at the start of the year for off-the-court troubles).
While the Celtics hoped to bring Bradley along slowly, and still have enough depth to do so, injuries might force the team to throw him into the fire. And Boston is OK with that as well. After all, he was the 19th overall pick. (Put another way: Rajon Rondo was taken 21st overall in 2006 draft and managed to claw his way up the depth chart in his rookie season, so picks in that area do have expectations, even if Rivers has typically kept first-year players glued to the pine.)
Click HERE to read the full story.