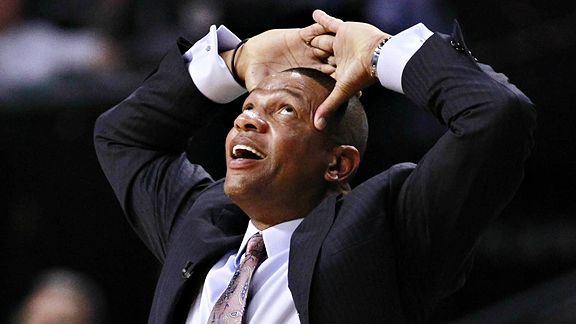 Greg M. Cooper/US Presswire
Doc Rivers wants to see a better effort from his bench players.BOSTON -- The Boston Celtics' bench players have been outscored by opposing reserves in eight of the team's last nine games and 11-of-16 tilts overall. On Friday, the Celtics' bench was outscored by a whopping 63-29 margin, and Boston's four chief reserves (Glen Davis, Marquis Daniels, Nate Robinson and Semih Erden) were a combined minus-52 in plus/minus on a night Boston's starting five was a combined plus-96.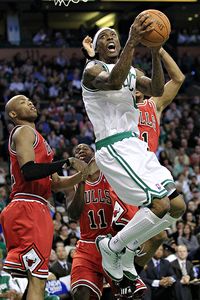 AP Photo/Charles Krupa
Marquis Daniels has been significantly more productive around the rim than away from it.A bunch of statistics aren't needed to tell why this is happening. The Celtics have been playing shorthanded essentially since the start of the season, and the bench hasn't been able to develop any consistency or rhythm.
Coach Doc Rivers admitted it's unfair to judge based solely on the point differential, but the numbers are impossible to ignore.
"It's unfair, but let's be unfair for a second," Rivers said after Friday's game. "The first and third quarters, [the Raptors] scored 35 points on our starters. And you can make that case, especially in the third quarter because [Boston's starters] played the whole quarter. The other two quarters were 32 [points allowed] and 34, and that's our second unit. So that was the only thing I talked about after the game."
Expanding the first and third quarters versus the second and fourth quarters over the last eight games shows that the Celtics are plus-70 in the first and third periods (outscoring opponents 462-392) and a minus-6 in the second and fourth quarters (being outscored 437-431).
But we wanted to be more precise. So we reached out to the folks at Elias Sports Bureau and asked them to crunch the numbers based on whether the Celtics' starters or reserves were on the floor.
Click HERE to read the full story.