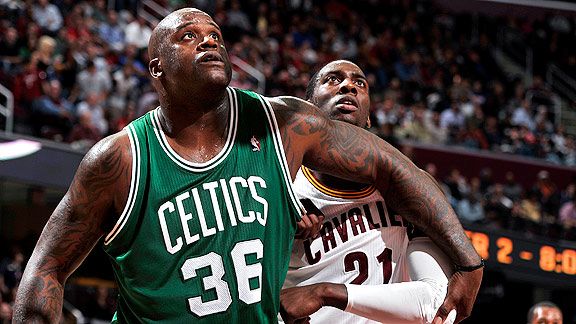 David Liam Kyle/NBAE/Getty Images
Shaquille O'Neal helped the Celtics take down the team he played for last season.Five observations from afar after the Boston Celtics defeated the Cleveland Cavaliers 106-87 Tuesday night at Quicken Loans Arena:
--BENCH RESPONDS TO CHALLENGE, TURNS GAME AROUND--
Under fire for lackluster efforts in recent games and shorthanded by injuries, the Boston bench responded with perhaps its best performance of the season, helping the Celtics turn Tuesday's game around. Boston came out flat and, hindered by early foul trouble for Paul Pierce, let the Cavaliers build a seven-point cushion. Even with that hole, Rivers leaned on a second unit comprised of Glen Davis, Nate Robinson, Marquis Daniels and Semih Erden, with point guard Rajon Rondo staying on the floor.
Rondo scored the final 11 points of the first quarter, pulling Boston within a bucket after one quarter. But that second unit produced 16 second-quarter points, highlighted by a trio of hoops (and seven points in the frame) from Daniels. By the time Ray Allen subbed back in for Daniels with 3:50 to play in the first half, Boston held a seven-point lead, which soon soared to double digits.
"I thought the bench turned the game around," Celtics coach Doc Rivers told reporters in Cleveland, saying he spent some extra time with the second unit before Monday's practice to break down its recent struggles. Boston's bench only outscored their Cleveland counterparts 43-41 but that doesn't reflect the impact the Celtics' reserves had on this game.
--MORE BENCH PRESS: DANIELS, DAVIS SHINE--
When Delonte West spilled to the ground Wednesday night against the New Jersey Nets, fracturing his right wrist and sidelining him indefinitely, Daniels got thrust into a role as a potential backup point guard behind Rondo (who was dealing with his own hamstring and feet injuries). But Tuesday's game showed how good Daniels can be off the ball in his natural swingman role. He was all over the court, but thrived in the paint, making a trio of second-quarter shots in the lane to spark his big night. Daniels, who got early minutes because of Pierce's foul trouble, finished with 16 points on 7-of-10 shooting with four rebounds and two steals over nearly 33 minutes of action. What's more, his defense against Ramone Sessions and Mo Williams was fantastic, leading Rivers to suggest that Daniels can be this type of a force every night.
After struggling his last five games, Davis scored 13 of his 17 points in the second half, connected on 7-of-14 shots, and added 11 rebounds, 4 assists and a highlight-reel block over nearly 32 minutes of action.
--CAVS MAKE RONDO SHOOT; RONDO MAKES CAVS PAY--
The Cavaliers came in with a game plan to make Rondo shoot the ball. Trouble was, they didn't plan on letting him take the majority of those attempts from inches away from the rim. At times it looked like a layup line for Rondo, who repeatedly drove to the basket in the first half, completing layup after layup as Boston rallied from its early deficit.
Rondo put up nine first-quarter shots, dropping five of them, and scored Boston's final 11 points of the quarter. Rondo settled in from there, registering 10 of his assists after the first 12 minutes. Rondo made 3-of-4 attempts and added four assists in the third quarter as Boston's lead ballooned to 19. Rondo finished 11-of-17 shooting for a season-high 23 points over 38 minutes. He was the only starter whose minutes remained high, but his play allowed his more veteran teammates to save their energy on the first night of another back-to-back (the Trail Blazers visit TD Garden Wednesday).
--OHHHH, FUDGE ... ONLY HE DIDN'T SAY FUDGE--
The only thing louder than the expletive Kevin Garnett bellowed (quite audible on the TV broadcast) after a third-quarter injury scare was the collective gasp that went up around New England at the thought of Garnett holding his right leg in pain. It turned out to be his ankle (collective exhale at no mention of a knee), which rolled when he stepped on Pierce's foot while chasing a rebound.
The Celtics quickly called time out, and Garnett didn't just stay in the game, he seemed to get inspired, even as he grimaced initially while trying to walk off the pain. A few minutes after the injury scare, Garnett produced a ridiculous turnaround, and-1, banked-home jumper that put Boston out front by 16 with two minutes to play in the third. He finished with 11 points (on 4-of-11 shooting), 10 rebounds, 4 assists and a steal over less than 30 minutes of action.
--LOOSE BALLS: PIERCE & RONDO JOIN CHARGE WATCH, BABY SHOOTING 3'S--
* Pierce played a mere 22:44 in large part because of early (and questionable) foul trouble. After logging just 2:33 in the first quarter, Pierce returned in the second and promptly drew his first charge of the season (fearlessly absorbing a Ryan Hollins bump just 15 seconds after re-entering). Pierce played inspired defense the rest of the night, blocking three shots and showing no fear after the two early whistles.
* Speaking of charges, Rondo also drew his first charge of the year, stepping in front of a fast-breaking Daniel Gibson early in the fourth quarter ... And speaking of blocked shots, the Celtics matched their season high of eight blocks (set last time out vs. the Raptors). Boston now has 26 blocks in its last four games, with Semih Erden contributing a pair Tuesday.
* Rookies Avery Bradley and Luke Harangody got 1:19 of court time to close out Tuesday's game. Harangody knocked down a 19-foot jumper off a Bradley assist with 30 seconds to play.
* You know things are going pretty well when Glen Davis hits a 26-foot 3-pointer to close out the game. (As Davis would Tweet, 'On my momma!')
* The Celtics continue to shoot better than 50 percent from the floor this season, connecting on 50.6 percent (44-of-87) Tuesday. That mark is directly related to high-percentage shots, as evidenced by Boston's latest domination in the paint, outscoring the Cavs, 60-26, in the ink.
* It could have been worse for Cleveland, a town awaiting the return of LeBron James on Thursday night. The Celtics connected on a mere 56.5 percent of their free throws (13-of-23), so this could have been even more lopsided.