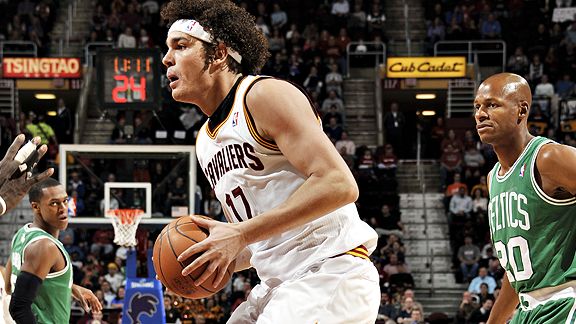 David Liam Kyle/Getty Images
Anderson Varejao gave the Celtics fits early, but Boston quickly motored away.First impressions from afar after the Boston Celtics defeated the Cleveland Cavaliers 106-87 Tuesday night at Quicken Loans Arena.
HOW THE GAME WAS WON
Rajon Rondo scored a season-high 23 points on 11-of-17 shooting and handed out 12 assists over a team-high 38 minutes as his play single-handedly pulled Boston out of an early hole. Marquis Daniels chipped in 16 points on 7-of-10 shooting over 33 minutes to pace five other Celtics in double figures, providing the bench contribution the Celtics generally have lacked of late. Paul Pierce (11 points, 22 minutes) and Ray Allen (12 points, 23 minutes) got breezy nights, which should aid Boston with the second night of a back-to-back looming Wednesday.
TURNING POINT
The Celtics found themselves in a seven-point hole midway through the first quarter and looked like they might be falling prey to the sort of lackluster effort that dotted their loss in Cleveland last month. Instead, Rondo put the team on his shoulders (or maybe his ailing feet and hamstring is more appropriate), scoring the team's final 11 points of the first quarter to make it a one-possession game. Boston turned on the jets in the second quarter, outscoring the Cavaliers 35-22 for a double-digit halftime cushion.
STAT OF THE GAME
The Celtics registered eight more blocks Tuesday, matching their season high set in Friday's win over the Raptors. Boston now boasts 27 swats over its last four games (this after registering a mere 41 blocks over the first 13 games).
UNSUNG HERO
Daniels thrived with a second unit that included Rondo on the court, generating easy baskets around the rim, particularly with his slashing ability. While it's become routine for Glen Davis (17 points, 11 rebounds) to provide a nice punch off the bench, it's been rare for someone else to step up, but Daniels did that Tuesday.
WHAT IT MEANS
The Celtics improved to 4-1 on the first night of back-to-backs this year and head home in good shape with the Trail Blazers coming to town Wednesday. Rondo put together a fine effort, increasing his own offensive output when the team needed it. Doc Rivers shortened his rotation in the early going and was rewarded with a big night from the bench.