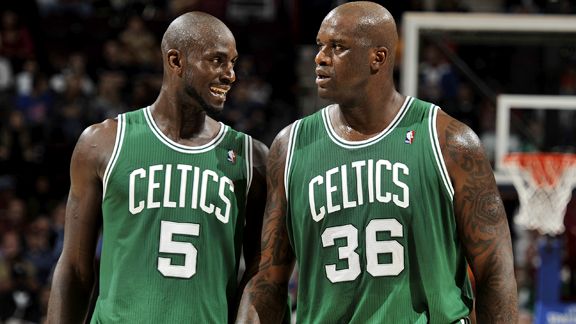 David Liam Kyle/NBAE
Shaquille O'Neal and Kevin Garnett spend plenty of time in the paint on defense.Rarely is it a game-changer, but defensive 3-second violations do give opponents what amounts to free points. Through 17 games this season, the Celtics have been tagged with the infraction 12 times, by our unofficial count. That included one violation in Tuesday's triumph over the Cleveland Cavaliers, when Semih Erden got whistled for his first 3-second infraction of the season (not too shabby with 162 minutes of floor time in 14 appearances). Here's a quick glimpse at how many times Boston's bigs have been caught loitering in the paint this season:
Shaquille O'Neal 5; Kevin Garnett 4; Glen Davis 2; Erden 1.