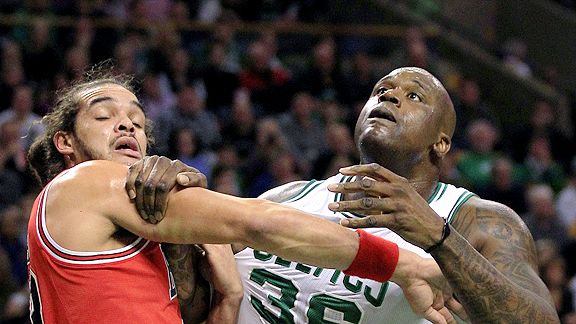 AP Photo/Charles Krupa
Shaquille O'Neal and Joakim Noah mix it up down low.BOSTON -- First impressions after the Boston Celtics defeated the Chicago Bulls 104-92 Friday night at TD Garden:
HOW THE GAME WAS WON
Kevin Garnett registered a double-double in the first half alone, scoring 16 of his team-high 20 points and grabbing 11 of his game-high 17 rebounds before the intermission to help pace Boston to a lopsided win. Rajon Rondo added a double-double of his own (12 points, 19 assists) as all five Celtics starters landed in double figures for scoring as part of a balanced output. Derrick Rose scored a team-high 20 points with eight assists for the Bulls.
TURNING POINT
The Celtics kicked away a 14-point, first-quarter lead, but built it back up in the third frame while pulling away. It was a one-point game before Boston embarked on a 17-2 run, in which Boston produced eight baskets, all at the rim, in the span of four minutes to open a 70-54 cushion with 6:06 to play in the frame. Rondo produced three layups (one off a putback), Pierce added two more, and the three other starters chipped in a bucket apiece as part of a frenetic outburst.
STAT OF THE GAME
Hard to ignore when Rondo out-assists the opposing team. The Bulls finished with 18 dimes on the night. Boston also finished with a dominating 44-34 advantage on the glass.
UNSUNG HERO
With Glen Davis in early foul trouble, Semih Erden logged valuable minutes up front. The rookie center posted seven points on 3-of-3 shooting while grabbing four rebounds over 20 minutes.
WHAT IT MEANS
The Celtics have now won six straight and, for a change, it came a little easier than most of their other 14 wins. Yes, Boston fumbled away a double-digit lead early, but the starters pushed it right back up in the third quarter and the Celtics breezed to the finish line, trotting out Gino with 16-point cushion with 2:07 to go. It's only the second appearance for Boston's favorite American Bandstand dancer this season.