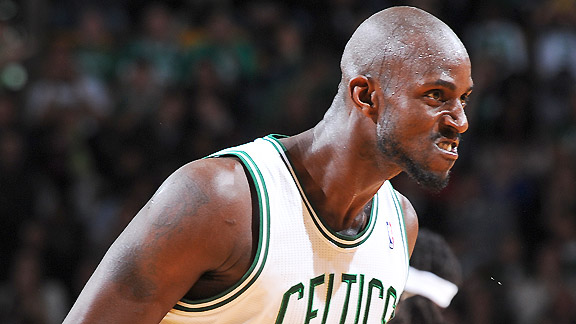 Brian Babineau/NBAE/Getty Images
Kevin Garnett: Old cat teaching young cats some respect.BOSTON -- The stat line certainly impressed Rajon Rondo, but asked about Kevin Garnett's monster performance Friday night in Boston's 104-92 triumph over the Chicago Bulls, the Celtics' point guard pointed to a play that didn't show up in a box score highlighted by Garnett's 20-point, 17-rebound outburst.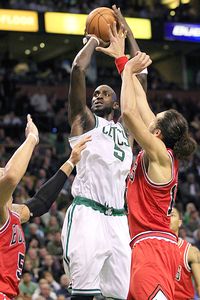 AP Photo/Charles Krupa
Boston's Kevin Garnett let his play do the talking against Chicago's Joakim Noah.With Boston boasting a 16-point cushion with 7:34 to play in the fourth quarter, Garnett got whistled for goaltending as he viciously swatted away a Joakim Noah layup attempt (the ball landing somewhere out by the 3-point stripe as if spiked by someone in a volleyball uniform).
The fact that it cost Boston two points didn't matter to Rondo. Watching Garnett elevate as explosively as he did was the latest sign of how good his body is feeling after being slowed the past 18 months by a balky right knee.
"Kevin looked great tonight. I think the blocked shot he had, he was jumping really well," said Rondo. "He's always had a knack for the ball, but right now he's explosive. He's jumping over people to get rebounds
"That's only a good thing for us, a bad thing for the rest of the teams."
While Garnett tries desperately to avoid talking about his health, he can't help but admit to feeling uninhibited for the first time since initially injuring his right knee in February of 2009 (ultimately missing the playoffs that year, then being slowed for much of last season).
His improved health has showed in games like Friday's. Due in part to Glen Davis' early foul trouble, Garnett played 19 minutes, 32 seconds in the first half, registering a double-double before the intermission with 16 points and 11 rebounds.
In addition to the 20 points and 17 rebounds he finished with, Garnett filled up his stat line with six assists, two steals and a block. And then there was that one goaltending where he looked particularly spry.
"I'm not even paying attention to what I'm doing out there," said Garnett. "I feel well. I'm out here giving everything I've got. I'm not paying attention to how high I'm jumping, or how I'm moving laterally. I just know I'm not in so much pain, and some of the defensive coverages, I can read them now, and I can get to my spots early. Nothing less than that. There's not some unwritten formula or something that I've got. I'm just out there hooping."
Click HERE to read the full story.