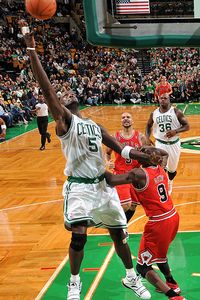 Brian Babineau/NBAE/Getty
Kevin Garnett is grabbing defensive rebounds at a rate greater than any other in his NBA career.A cursory glance at the box score from Boston's 104-92 triumph over the Chicago Bulls on Friday night reveals that Kevin Garnett had a monster game on the glass, hauling in 17 rebounds (something he's only done three other times in a Boston uniform and not since December of 2008).
But here's the real jaw-dropper: Garnett hauled in nearly half of the available defensive rebounds during his time on the floor (17 out of 35, 48.6 percent). Put another way: Kevin Love leads the NBA by snaring 34.2 percent of available defensive rebounds (according to BasketballReference.com), so for a player to collect nearly half the available defensive boards during his time on the court is fairly ridiculous. In fact, if you remember Love's 31-rebound effort against the New York Knicks last month, he corralled 19 out of 46 available defensive rebounds (41.3 percent, which is still impressive, but not KG-vs.-Bulls level).
For the 2010-11 season, Garnett is fourth in the league in defensive rebounding rate at 31 percent, right behind Dwight Howard (31.3), Marcus Camby (32.8) and Love. This doesn't just suggest a bounce-back year for Garnett, it's taking him back to his glory days.
Garnett topped the league in defensive rebounding four years in a row in 2003-04 (30 percent), 2004-05 (30.2), 2005-06 (29.7), and 2006-07 (30.8). He's exceeded all those marks through the first quarter of the 2010-11 season. In his three previous seasons in Boston, Garnett topped out at 26.7 percent rebounding rate. Last year, plagued by lingering knee pain, he finished at a woeful 24.8 percent.
And the uptick in grabbing defensive boards isn't lost on the coaches who know him best.
"He's active, he's rebounding the ball off the rim," said Bulls first-year coach Tom Thibodeau, who watched Garnett for three previous seasons on the Boston bench. "He's going to get rebounds out of his area."
Concurred Celtics coach Doc Rivers: "We were talking about that before the game, Thibs and I. And that's the biggest difference: Not only above the rim, but out of space. Last year, the ball went there," Rivers said pointing a short space in front of him, "and Kevin couldn't get there to get it. Now he can. And that's huge for us."