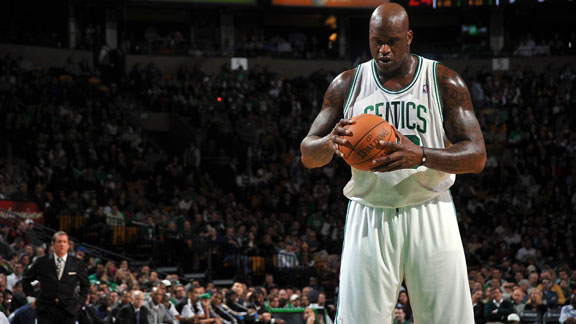 Brian Babineau/NBAE/Getty Images
Shaq is thriving in Boston in limited minutes, mostly because he's willing to accept his new role.In limited minutes, Shaquille O'Neal has become one of the most efficient players in the NBA, writes ESPN.com's Tom Haberstroh

:
For the fourth year in a row, the Boston Celtics have jumped out to a sizzling start, winning 16 of their first 20 games and earning a spot atop the Eastern Conference. This wasn't supposed to happen. Not with Kendrick Perkins sidelined until after the All-Star break, Rasheed Wallace retired and no real backup point guard without Delonte West. The Celtics were supposed to be hurting, not surging.

The biggest difference-maker? Shaquille O'Neal.

If you tuned in to Friday night's TV broadcast of the Celtics-Chicago Bulls game, you might have heard ESPN analysts Mark Jackson and Jeff Van Gundy discussing the 38-year-old's candidacy for the All-Star team. Actually, the two weren't discussing his candidacy as much as they were flat-out campaigning for Shaq's selection to the team. This despite only playing a shade over 20 minutes per game.

Blasphemy? Well, consider the facts. Despite the stellar efforts of Rajon Rondo, Paul Pierce and Kevin Garnett, who could well earn All-Star bids on their own, it is Shaq who boasts the team's highest player efficiency rating (21.2). In fact, when it comes to centers in the East, only Al Horford and Dwight Howard have been more productive on a per-minute basis. With an absurdly high 68.4 field goal percentage, we haven't seen someone this money from the floor since the days of Wilt Chamberlain.

However, individual accomplishments mean little if they get lost in translation on the team level. But after looking at plus/minus numbers, we can see that's certainly not the case with Boston's 15-time All-Star. The Celtics are scoring 120.2 points per 100 possessions with Shaq on the floor this season. How good is that? That's the highest rate for any player in the league, according to basketballvalue.com.

Not a bad return for a veteran-minimum contract.

But that contract may be the catalyst for Shaq's resurgence. At least one league executive said it has worked wonders to deflate his ego.

"It takes a long time for formerly great players to come to grips with the fact that they're not great anymore," said an Eastern Conference exec. "It has to be very humbling to be a free agent and the best he could come up with on a winning team was this deal. What he's done integrating in Boston really proves that he's true to his word about wanting to win."

Physically, Shaq may be a shell of his former self, but it's clear he can still be incredibly efficient -- only if he accepts his role.
Click HERE

to read the full story.
One other random note on Shaq: Dec. 8 is the 10-year anniversary of a rather dubious accomplishment by O'Neal, who broke a 40-year-old NBA record when he missed all 11 of his free throw attempts as member of the Los Angeles Lakers in a game against the Seattle Supersonics in 2000. Wilt Chamberlain previously missed 10 free throw attempts against Detroit on Nov. 4, 1960.