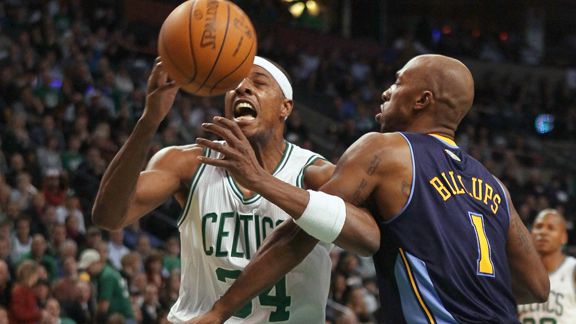 Elsa/Getty Images
Despite a 19-point, first-quarter cushion, Paul Pierce and the Celtics nearly fumbled the game away.BOSTON -- First impressions after the Boston Celtics defeated the Denver Nuggets 105-89 Wednesday night at TD Garden:
HOW THE GAME WAS WON
Celtics guard Ray Allen scored a game-high 28 points on 9-of-14 shooting with five rebounds, four assists and a glossy plus-27 in the plus/minus category to pace his team. Rajon Rondo played 30 minutes and dished out 13 assists despite looking a step slow because of lingering soreness in his left hamstring, and Kevin Garnett barely missed another double-double (17 points, 9 rebounds). Ty Lawson scored a team-high 24 points off the bench for Denver.
TURNING POINT
Despite fumbling away a 19-point, first-quarter lead and allowing Denver to make it a one-point game in the second, the Celtics slowly stretched out their lead in the third quarter, embarking on a 10-2 run late in the period to pull away for good. Garnett, Glen Davis and Semih Erden each had buckets as Boston carried an 11-point cushion into the final quarter.
STAT OF THE GAME
The Celtics continued to scorch the field, shooting a sizzling 55.9 percent (38-of-68), despite struggling beyond the arc (4-of-15, 26.7 percent).
UNSUNG HERO
Davis, sidelined since Sunday with flu-like symptoms, chipped in 16 points, 3 steals and 3 charges taken over 27 minutes off the bench.
WHAT IT MEANS
The Celtics carry an eight-game winning streak into the second night of a back-to-back at Philadelphia on Thursday. Boston could have made things much easier on itself, but the bench's inability to hold a big first-quarter cushion forced the starters to log bigger minutes than they might have hoped. Fortunately, Boston had all 12 of its players available and didn't lean too heavily on its starting five (Pierce, who had an easy day Sunday in New Jersey, finished with a team-high 36:49).