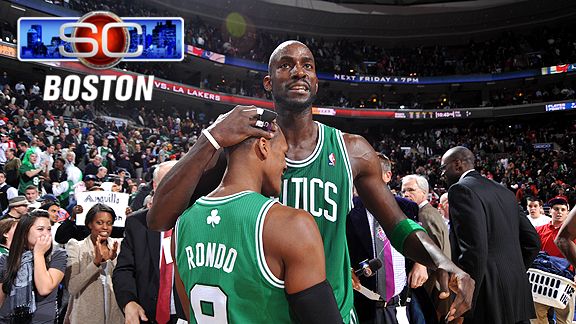 Jesse D. Garrabrant/NBAE via Getty Images

Rajon Rondo and Kevin Garnett combined to lift Boston to victory.

PHILADELPHIA -- As though the NBA needed just one more reminder that this isn't the Kevin Garnett of last season, the Boston Celtics drew up a final play Thursday involving the 15-year veteran that it wouldn't have even considered a season ago when Garnett was still hobbled in the aftermath of knee surgery.
No, lobs were out of the question last season. So many times they failed to be executed that Rajon Rondo rarely even considered tossing them. This season, with a rejuvenated -- and healthy -- Garnett, the lob has practically become as common as Ray Allen 3-pointers or Paul Pierce mid-range jumpers.
So it was with almost a smug assuredness that, with the game in the balance, Celtics coach Doc Rivers sketched out a play the team had worked on for much of the past two weeks, featuring a lob to the rim for Garnett. A play in which Allen and Pierce, Boston's two most common late-game weapons, were essentially decoys, stretching the court to open space for Garnett to run freely to the basket.
With renewed confidence in himself and his body, Garnett caught a lob from Rondo and banked in the winning shot with 1.4 seconds to play in Boston's 102-101 triumph over the Philadelphia 76ers on Thursday at the Wells Fargo Center.
"His body is back," Pierce said of Garnett. "Last year, when he was hurt, he didn't have the same mentality. That kind of happens. I'm the same way -- when you can't do things that you know you can do, it's frustrating. Now he's completely healthy and you can see it in his attitude off the court and on the court. It's amazing.
"A lot of people wrote him off last year, but he's proving everybody wrong."
Big efforts this season are nothing new for Garnett and he's thrived this season, particularly against younger opponents that took advantage of him last season. None of the baby-faced 76ers were on KG's hit list Thursday, but they still incurred his wrath, a national TV audience getting a glimpse at what Shaquille O'Neal often refers to as early "2000 KG" -- as in, the type of Garnett that earned the league's Most Valuable Player award in 2004.
The way Rondo recounted it Thursday, the 76ers didn't have much of a chance of stopping Boston's final play with the personnel the Celtics put on the floor. In fact, only Boston could have stopped itself.
Which had happened the last time the team tried to run the play at the start of the season. The timing was off, the play broke down, and Boston came away empty. Heck, during practice recently, Garnett botched the play so many times, it should have left Rivers a little uneasy about drawing it up with little more than six seconds to play.
But he did.
Click HERE to read the full story.