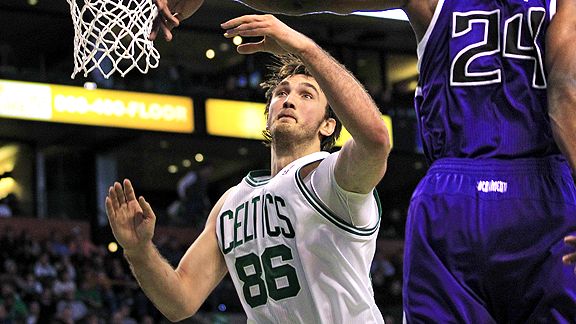 AP Photo/Charles Krupa
After limited court time since Christmas, Semih Erden made the most of his minutes Wednesday.BOSTON -- Everything you need to know after the Boston Celtics defeated the Sacramento Kings 119-95 Wednesday night at TD Garden:
Rapid Reaction | Game Recap | Box Score
--FORSBERG: ERDEN'S PLAY JUST WHAT DOC ORDERED--
Steve Babineau/NBAE/Getty

Semih Erden showed a surge in energy and matched his career high with 10 points.Semih Erden was toast, the thought of chasing his defender off one more pick-and-roll simply too daunting, so he hedged the ball-handler a little more emphatically than necessary, picking up his sixth foul and ending his night 60 seconds before the Boston Celtics sealed a 119-95 triumph over the Sacramento Kings. Erden, who had played a mere 11 minutes, 47 seconds since Christmas, logging eight DNP's during that span, posted a whopping 33:29 on Wednesday, filling a frontcourt void as center Jermaine O'Neal sat out with swelling in his troublesome left knee. What's more, Erden matched one career high with 10 points and established another with eight rebounds. "He ran out of gas, there's no doubt about that," Celtics coach Doc Rivers said with a smile.
--POSTGAME NOTES: DOC JOINS AN EXCLUSIVE CLUB--
Celtics coach Doc Rivers joined an exclusive club last month when he notched his 300th win with the team, becoming only the fourth head coach in Boston's storied history to reach that plateau. With Wednesday's win over Sacramento, Rivers leapfrogged K.C. Jones with his 309th victory in his seventh season on the Boston bench. Rivers now sits behind only Red Auerbach (795) and Tommy Heinsohn (427 wins), but struggled to put what that means to him into words.
--PREGAME NOTES: KG REMAINS OUT; J.O'NEAL JOINS HIM--
Celtics forward Kevin Garnett will miss his eighth consecutive game Wednesday night against the Sacramento Kings and Boston's frontcourt will be further thinned as reserve center Jermaine O'Neal will not play because of soreness that has returned in his left knee. Rivers indicated that Garnett could also be held out of Friday's visit from the Charlotte Bobcats with an eye toward getting him three extra days of rest before the Orlando Magic come to town Monday.
Video Vault
Click HERE to watch all the video from Monday's game.
Tweet of the Night