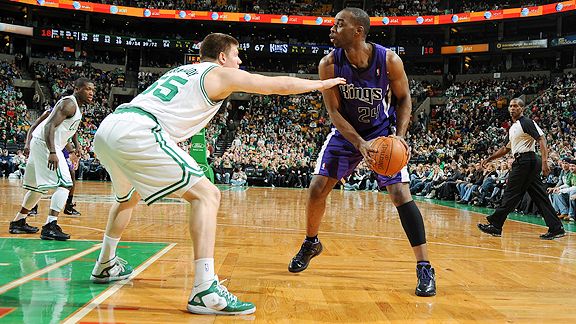 Steve Babineau/NBAE/Getty Images
Luke Harangody earned his playing time with his energetic play on the court.WALTHAM, Mass. -- The impending return of Kevin Garnett will all but eliminate the minutes rookie Luke Harangody has enjoyed over the past eight games, but he's proven he can contribute at this level during that span and earned the confidence of coach Doc Rivers as well.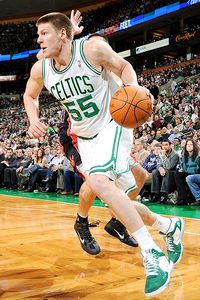 Brian Babineau/NBAE/Getty
After logging 18 DNPs early in the season, Luke Harangody has made himself indispensable amidst injuries."I don't have any answers with what Doc's doing with the rotation, but if he does [play me], I'm going to be ready," Harangody said. "You never know with this team with injuries."
River said Garnett will sit out Friday's game against the Charlotte Bobcats, but could be in line to return Monday against the Orlando Magic. But as the Celtics prepare to get back one key member of their frontcourt, another appears headed out as Jermaine O'Neal is expected to miss considerable time with a lingering left knee ailment that could leave Boston's front court thin again.
Making matters worse is that, after the Celtics practiced on Thursday afternoon, Doc Rivers revealed O'Neal's top replacement, Semih Erden, aggravated a groin pull during the session and was held out of practice.
The Celtics, as a result, could continue to lean on Harangody, who has done a credible job of filling in during Garnett's eight-game absence by providing much-needed energy, defense, and rebounding off the bench. He's averaged 14.2 minutes since Garnett was sidelined with a right calf strain against the Detroit Pistons on Dec. 29, and posted his first career double-double on Jan. 7 against the Toronto Raptors, finishing with 17 points and 11 rebounds in 27 energy-filled minutes.
Harangody's time on the floor, however, will likely start to fluctuate in accordance with the respective statuses of Garnett and Erden. In Garnett's absence, Harangody serves as one of the primary power forward backups with Glen Davis elevated to the starting lineup. If Erden ends up missing games due to his pulled groin muscle (one of many maladies he's battled this season), Harangody's minutes could remain up if Davis is utilized more to cover the center position.
Harangody maintained that he'll be ready to play, regardless of the different scenarios that could unfold. Rivers indicated that someone's minutes will decrease upon Garnett's insertion back into the lineup, and that player might very well be Harangody.
"It's tough for [Harangody] to keep the minutes where they are, he's got to move in front of [Davis] or Kevin, and that's tough to do," said Rivers.
For the remaining duration of Garnett's absence, however, Rivers noted that Harangody just needs to, "keep doing what he's doing." When asked what the most important thing he can continue to provide is, Harangody's answer was exactly what Rivers has preached for him to provide.
"I think just my energy," Harangody said without hesitation. "I've got to bring defense and rebounding every time I come out there. We already have enough scorers, so I just have to do my job.
"I'm not the biggest guy on the court out there, but I'll be the one working the hardest and that's how I'm going to make a living in this league."
Greg Payne is a student intern for ESPNBoston.com