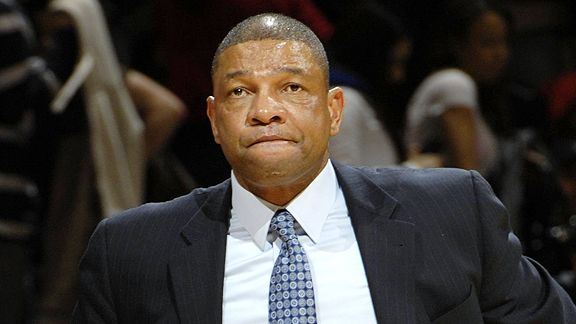 Ron Turenne/NBAE/Getty Images
The Celtics and coach Doc Rivers are no stranger to injuries this season.With injuries continuing to be problematic for the Celtics, Doc Rivers now has to be creative in keeping his team afloat:
Rick Osentoski/US Presswire

The Celtics are bracing for the potential to be without Jermaine O'Neal for another long stretch.When the Boston Celtics re-signed Marquis Daniels this offseason, the prevailing thought was that he had a chance to thrive because Boston was so thin at the small forward position, Daniels would be locked into a role as Paul Pierce's primary backup ... so long as he could stay healthy.

Daniels, who missed 28 games last season with a torn ligament in his left thumb, the latest setback in an injury-riddled career, has lived up to his end of the bargain as one of only five players on the team to appear in all 38 games this season.

Alas, the Celtics have been so beset by injuries, they haven't quite been able to live up to their part of the deal. Which is why Daniels found himself spending half of Thursday's practice session at the power forward spot, bracing for the potential of having to fill that role with Boston's frontcourt decimated by injuries.

This less than a month after Rajon Rondo's ankle sprain in a mid-December win over the New York Knicks had Daniels taking extra reps at point guard in case he had to serve as backup ball handler.
Click HERE to read the full story.
Thursday's content archive
--PRACTICE NOTES: KG PARTICIPATES; SURGERY FOR J.O'NEAL?--
Celtics coach Doc Rivers said center Jermaine O'Neal underwent an MRI Wednesday on his ailing left knee and, while he hadn't seen the results yet, Rivers indicated that in-season surgery was a likely possibility as Boston looks to cure what's nagged at O'Neal during his first three months with the team.
--SILVER LINING TO INJURIES: LUKE'S LEAP--
The impending return of Kevin Garnett will all but eliminate the minutes rookie Luke Harangody has enjoyed over the past eight games, but he's proven he can contribute at this level during that span and earned the confidence of coach Doc Rivers as well. "I don't have any answers with what Doc's doing with the rotation, but if he does [play me], I'm going to be ready," Harangody said. "You never know with this team with injuries."
--KG, RONDO SLIP IN AL-STAR VOTING--
In the fourth return on fan balloting released Thursday for the 2011 NBA All-Star Game, Rajon Rondo and Kevin Garnett both slipped to third at their respective positions, losing their grips on automatic starting bids for February's showcase in Los Angeles. Garnett now trails New York's Amare Stoudemire, while Rondo dipped behind Chicago's Derrick Rose. Paul Pierce and Ray Allen remain fourth at their respective positions, while Shaquille O'Neal is second at center. The top two guards and forwards, along with the top center, earn automatic starting spots.
--STAR SEARCH CONTINUES FOR GARDEN VISITORS--
The TD Garden has lacked a considerable amount of opposing star power so far this season. Boston's 119-95 lopsided victory over the Sacramento Kings Wednesday marked the sixth time this season the Celtics played at home against an opponent that was without one or more of its star players, as last season's Rookie of the Year, Tyreke Evans, sat out his third consecutive contest as he recovers from a sprained left ankle. Evans currently leads the Kings in points (17.2), assists (5.4) and minutes per game (36.9).
Video Vault
Click HERE to visit our YouTube video page.
Tweet of the Night
Some fans would be OK if Celtics players got rest over recognition at the 2011 All-Star Game...