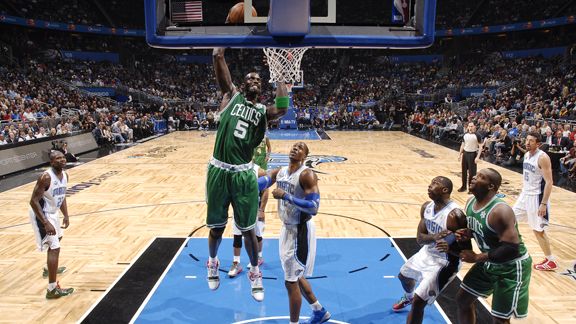 Fernando Medina/NBAE/Getty Images
The Celtics could get a boost if Kevin Garnett can return Monday.Just another game? Hardly. Bust out those measuring sticks as the Boston Celtics (maybe with Kevin Garnett in tow) and Orland Magic prepare to clash Monday night at TD Garden:
--CELTICS-MAGIC: TIME TO GAUGE PROGRESS--
The first 3-pointer the Orlando Magic hoist in Monday's game against the Boston Celtics will be their league-leading 1,000th of the season. The Celtics, by comparison, have hoisted nearly half that number (550) over their first 39 games. Yes, it's two teams with different offensive strategies, but both are finding ways to win games as the jockeying for position begins atop the Eastern Conference. Here's a 3-pointer of our own as we wait for the latest battle between last year's East finalists.
--PRACTICE NOTES: KG, PERKINS REUNITE BOSTON'S STARTING 5--
The Celtics might have limped through the end of practice with only 10 available bodies, but the team got a fairly potent morale boost as its familiar starting five were reunited with both Kevin Garnett and Kendrick Perkins back on the floor alongside Paul Pierce, Rajon Rondo and Ray Allen. "You could just see it with our first unit -- today was the first time this year we had our real first unit on the floor," said Rivers. "Offensively and defensively, it was just another level. They could run anything they wanted because everyone knew where everyone else was at."
Video Vault
Click HERE to watch all the video from Sunday's practice.
Tweet of the Night
A rapidly depleting frontcourt has some Celtics fans searching for a backup plan...