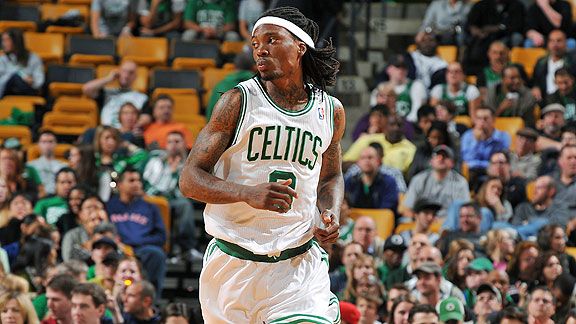 Brian Babineau/NBAE/Getty Images
With full health, Marquis Daniels is thriving this season in Boston.WALTHAM, Mass. --A stinger in his back brought on by a screen set by Kendrick Perkins may have kept Marquis Daniels out of the majority of the Celtics' practice on Sunday afternoon, but it's not likely to keep him out of the team's 40th game of the season Monday night when Boston hosts the Orlando Magic.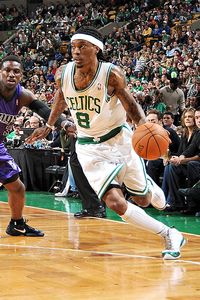 Steve Babineau/NBAE/Getty
Marquis Daniels got a new number this season, leaving both his old jersey and his struggles in the past."Perk welcomed me back," Daniels said with a smile after Sunday's practice. "He gave me a good screen. It was just a good, solid screen. I'm alright though."
Daniels is one of only five Celtics to play in every game so far this season (Paul Pierce, Ray Allen, Glen Davis, and Nate Robinson are the others) and has avoided the injury bug that has plagued him for much of his professional career. Daniels has never played a full 82-game regular season, his career-high in games played standing at 74 during the 2007-2008 campaign while he was a member of the Indiana Pacers.
After missing 28 games last season due to torn ligaments in his left thumb, Daniels spent much of the playoffs glued to the Celtics' bench (a concussion suffered during the Eastern Conference finals against the Orlando Magic didn't help matters, either).
Daniels had entered the season with high hopes as the primary backup to Celtics captain Paul Pierce, but when he returned from the thumb injury in early February, he struggled to regain his rhythm and was now fighting for minutes with the surging Tony Allen. Allen ultimately won the spot, and Daniels went on to play a mere 33 minutes through the opening three rounds of the postseason, and only four total minutes in the NBA Finals.
"It was very frustrating because you feel like you could help, but you're not able to do anything," Daniels said of fighting through injuries last season. "You've just got to sit through that. It was a learning experience."
This season, operating with a clean bill of health, the 6-foot-6 Daniels has been one of Rivers' most consistent options off the bench, and his versatility allows him to play multiple positions, which has been invaluable to a Celtics team that has been significantly hindered by injuries at practically every spot on the floor.
Daniels is more than capable of attacking the rim and scoring his own points as a small forward, while also possessing the ability to interchange with reserve guard Nate Robinson as the quarterback of the second unit, which in turn allows Robinson to work his way around the court freely as more of a pure scorer.
Daniels' versatility works on the other end of the floor as well, as he's strong enough to match up with and defend opposing small forwards, and quick enough to stick with shooting guards (and, on occasion, even point guards).
"I don't do a lot of things exceptionally well as I do a lot of things pretty good and I try to stay consistent at everything," said Daniels. "[I try to] keep it balanced; just playing my defense, staying aggressive defensively, and being aggressive on offense as well."
One of Daniels' chief talents lies in his underrated ability to slice and cut to the basket, both with and without the ball. It's a skill that is largely unheralded in the NBA, but Daniels has incorporated it into his everyday game and routinely creates opportunities for both his teammates and himself. In the past, Rivers has ranked Daniels among the league's most-talented cutters.
"With the shooters that we have on this team, we've got great scorers and guys pay so much attention to them. It helps me get to the basket, sneaking behind guys and slicing, and just getting in there and trying to [be] aggressive on offense."
Daniels admits that being healthy has been perhaps the biggest key behind his contributions this season. Having played in all 39 games so far, the Auburn product has set a career-high for most consecutive games played to start a season.
"Definitely a lot," Daniels said of how much being healthy has meant to him. "Just having your health and just being able to go out there and contribute and help. Whenever guys come out of the game, just making sure, you know, we don't miss a beat."
"Really, with me, as long as I'm healthy, I feel like I can play with any group of guys that's out there. I thank God I've been healthy up to this point and hopefully it can continue for the rest of the year."
That the Celtics elected to bring back Daniels for a second season surprised some. Allen, however, signed with the Memphis Grizzlies as a free agent, and, with limited salary cap space to work with, the Celtics chose to exercise their non-Bird Rights on Daniels and sign him for up to 120 percent of the value of his previous contract. Daniels originally signed with the Celtics for the bi-annual exception rate of $1.9 million in the summer of 2009, and that number rose to $2.4 million when Daniels and Boston agreed to a new one-year deal this offseason.
The Celtics were not signing Daniels to merely replace Allen. Daniels' talents are not in question, even if injuries never allowed him to fully display them last season. During the 2008-2009 season -- the season before he signed with the Celtics -- he averaged 13.6 points, 4.6 rebounds, 2.1 assists, and 1.1 steals per game with the Pacers. The Celtics knew what they were getting when they resigned Daniels, and they have so far reaped the benefits of their faith in him.
That interest was mutual, as Daniels maintained that, despite last season not going the way he had hoped, he never wanted to leave Boston.
"I was a Celtic until I signed anywhere else," said Daniels. "It's a great group of guys, great organization, coaching staff. Who wouldn't want to be a part of this?"
Greg Payne is a student intern for ESPNBoston.com