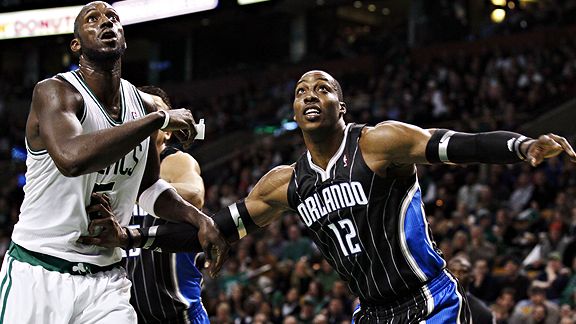 AP Photo/Winslow Townson
Kevin Garnett returned to the Boston lineup Monday vs. Orlando.BOSTON -- Rapid reaction after the Boston Celtics defeated the Orlando Magic 109-106 Monday night at TD Garden:
HOW THE GAME WAS WON
Kevin Garnett returned from a nine-game absence and connected on 7-of-13 shots for 19 points with eight rebounds over 31 minutes, while Ray Allen scored a team-high 26 points, 13 of which came in the final quarter (including two big 3-pointers), on 8-of-11 shooting over 39 minutes. In total, Boston put six players in double figures and shot a blistering 60 percent (42-of-70) from the field. Dwight Howard paced Orlando with a game-high 33 points and 13 rebounds over 43 minutes.
TURNING POINT
The Celtics held a 10-point lead in the early going, but neither team drew much separation over the final three quarters. With the game tied in the final minute, Paul Pierce got Jason Richardson off the ground and converted an elbow jumper while drawing the foul. After adding the free throw, the Celtics led 107-104 with 38.7 seconds to play. Garnett's late steal sealed the win.
STAT OF THE GAME
The Magic lived up to their reputation beyond the arc. Orlando sprayed 27 3-pointers, connecting on 11 (40.7 percent), living off the 3-ball much of the night. Ryan Anderson's hot shooting (4-of-6 beyond the arc) single-handedly helped Orlando erase its early deficit.
UNSUNG HERO
One day after suffering a right adductor strain when slipping on some ice on his way to practice, Shaquille O'Neal started and toughed out 26 minutes. Despite foul trouble, O'Neal connected on 5-of-7 shots for 12 points, adding 2 rebounds, 2 blocks and a steal. What's more, he made both free throws he attempted (aided by yet another lane violation).
WHAT IT MEANS
The Celtics, limited to 34.6 percent shooting and a season-low 28 field goals against Orlando on Christmas Day, leaned on their offense in a matchup of two of the better defenses in the league. Boston has won three in a row after dropping the first game of a six-game homestand. The return of Garnett clearly added a dash of spice for an injury-depleted squad in need of a boost with a top Eastern Conference foe in town.