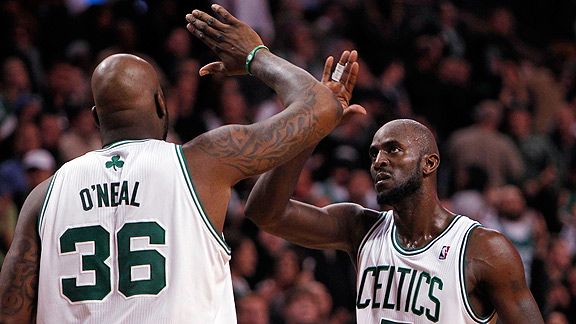 Greg M. Cooper/US Presswire
Kevin Garnett returned to the court and made a key late-game steal vs. the Magic.BOSTON -- Everything you need to know after the Boston Celtics defeated the Orlando Magic 109-106 Monday night at the TD Garden:
Rapid Reaction | Game Recap | Box Score
--GARNETT STEALS THE SHOW VS. MAGIC--
Call him The Subtle Ticket. In his first game back after a nine-game absence, Kevin Garnett didn't put up any gaudy offensive numbers (19 points on 7-of-13 shooting) and he didn't inspire the Boston Celtics to play the sort of lockdown defense we've come to expect when he's on the floor. But Garnett did all the little things, the sort of stuff that blends harmlessly into the box score but might have made the difference in Monday's 109-106 win over the Orlando Magic.
--DEFENSE-FIRST BOSTON LEANS ON OFFENSE--
I know. I know. I know. The Boston Celtics think of themselves as a defensive team. They pride themselves on being a defensive power and understand that stopping the other guy is the best and surest way to add another banner to the franchise collection. All of that is true. But oh my goodness, they are doing things at the other end of the floor that make you want to call the championship flag seamstress and tell her to start working. If these guys can continue to shoot the ball the way they have over the first 40 games and their defense, already pretty good, comes around when everyone is (hopefully) healthy, we have the makings of a hardwood leviathan.
--POSTGAME NOTES: PIERCE FINDS HIS SWEET SPOT ... AGAIN--
In a way, Jason Richardson should have known better. When Paul Pierce made his move to the right wing in the final minute of a tied game, even the ushers at TD Garden knew what was coming next. But like countless defenders before, Pierce got Richardson off his feet, drawing contact before muscling in a 19-foot jumper -- and drawing the foul -- with 38.7 seconds left. Pierce added the free throw, capping a modest-yet-efficient 14-point effort (5-of-7 shooting). He chipped in five rebounds, four assists, two blocks, and a steal over 39 minutes, but it was the signature move at the end that left the biggest mark on the game.
--PREGAME NOTES: KG, SHAQ ACTIVE; J.O'NEAL IN NEW YORK FOR KNEE OPINION--
It was positive injury news all around for the Celtics, who, in addition to having Kevin Garnett back, will also have Shaquille O'Neal (right adductor strain) and Semih Erden (groin pull) active in their frontcourt. O'Neal slipped on some ice on his way to the team's practice facility Sunday and sat out that day's practice, while Erden has been limited recently by a groin pull. Reserve swingman Marquis Daniels, who suffered what Rivers termed a "back stinger" running into a hard pick from Kendrick Perkins during Sunday's practice, also is available off the Boston bench.
--DAVIS AT EASE IN RESERVE ROLE--
Perhaps no one reaped the benefits of Kevin Garnett's return to the Boston Celtics' lineup more during Monday's win over the Orlando Magic than his understudy Glen Davis, the man assigned the near-impossible task of filling The Big Ticket's shoes during a near three-week absence. Davis, a key cog off the Boston bench and a player emerging as a candidate for the NBA's Sixth Man of the Year, produced mix results during a nine-game stretch as Garnett recovered from a strained right calf suffered in a late-December loss to the Detroit Pistons. Davis' stats were not poor (13.6 points, 4.2 rebounds, and 2.0 assists over 34.5 minutes per game), yet he was criticized at times for both his shot selection and the number of field goals he attempted.
Video Vault
Click HERE to watch all the video from Monday's game.
Tweet of the Night
Celtics fans are excited for the return of Kendrick Perkins, even if it means a likely uptick in illegal screens and technical fouls: