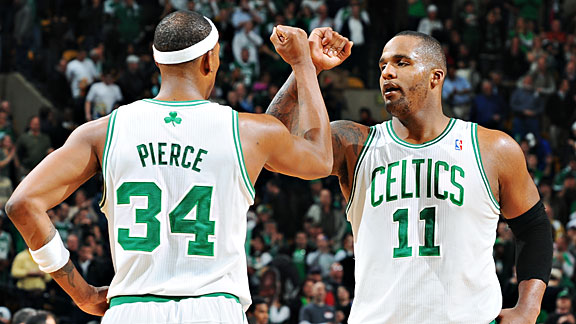 Brian Babineau/NBAE/Getty Images
Glen Davis settled right back into his role as the top reserve off the Boston bench Monday.BOSTON -- Perhaps no one reaped the benefits of Kevin Garnett's return to the Boston Celtics' lineup more during Monday's win over the Orlando Magic than his understudy Glen Davis, the man assigned the near-impossible task of filling The Big Ticket's shoes during a near three-week absence.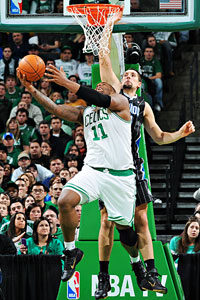 Brian Babineau/NBAE/Getty
Glen Davis drives to the rim during Monday's game against Orlando.Davis, a key cog off the Boston bench and a player emerging as a candidate for the NBA's Sixth Man of the Year, produced mix results during a nine-game stretch as Garnett recovered from a strained right calf suffered in a late-December loss to the Detroit Pistons. Davis' stats were not poor (13.6 points, 4.2 rebounds, and 2.0 assists over 34.5 minutes per game), yet he was criticized at times for both his shot selection and the number of field goals he attempted.
With Garnett back in the starting lineup Monday night against Orlando, Davis found himself back in more familiar territory amongst fellow reserves Marquis Daniels and Nate Robinson, and responded by contributing 15 points, four rebounds, two assists, and two blocks over 31 minutes.
Davis admitted he felt more at ease without having to worry about the pressure of starting.
"Yeah, I was [a little bit more relaxed tonight]," he said. "You guys could tell I was, right? I was relaxed. I think it's because of my meditating I did."
Meditating?
"Just woo-sah," Davis explained. "I did a lot of woo-sah [before the game]."
The game itself was anything but relaxing as Orlando erased an early double-digit deficit and neither team gained much separation the rest of the way. The relaxed Davis, however, was instrumental in Boston keeping pace with, and eventually overtaking, the Magic. The reserve forward scored nine of his 15 points in the second half and five in the fourth quarter.
With the Celtics leading 82-81 with 11:41 to play, Davis gobbled up a Ray Allen miss and laid it back in for an 84-81 advantage, then followed it up four minutes later by posting up on the right side on Orlando reserve Ryan Anderson and unleashing a nifty spin move along the right baseline for a layup and a 93-87 lead.
After a brief respite on the bench, Davis checked back in for Shaquille O'Neal with 5:22 to play and, matched up with Anderson in the post once again, Paul Pierce attempted to feed him the ball, and Anderson fouled him on the entry pass. Less than two minutes later, Rajon Rondo drove along the left baseline, forcing Anderson to rotate over on defense, which freed up Davis underneath, and Hedo Turkoglu fouled him as he tried to convert a slick feed from Rondo. Davis made one of two free throws to bring the Celtics within a point at 98-97.
He admitted after the game that he felt he had an advantage against Anderson in the paint.
"Yeah, we wanted to exploit that, every time we had a chance to," he said. "Rondo called a couple of plays and I delivered. I just thank God that he did."
Davis' biggest impact came on the other end of the floor in the fourth quarter when, playing alongside starters Garnett, Rondo, Allen, and Pierce, he went toe-to-toe with Orlando's All-NBA center Dwight Howard. Entering the fourth quarter Howard had already registered 26 points and nine rebounds, and proceeded to hit two quick baskets early in the period before Davis got the defensive assignment down the stretch and promptly ended Howard's scoring spree.
Davis guarded Howard for the final 5:22 of the game, and Howard could only muster three points (two of which were harmless free throws in the final seconds with the game already decided) and three rebounds over that time span. Howard had considerable difficulty backing down the 289-pound Davis in the paint, and when he tried setting up shop towards the top of the painted area, he found he had nowhere to go.
"I thought [Davis] back in his spot was great," Celtics coach Doc Rivers said. "[It was] a difficult spot. Playing against Dwight Howard is never easy."
Davis, meanwhile, had a slightly different take on guarding Orlando's All-Star big man.
"He's a great player, but he's not my hardest [player to defend]," he explained. "I think it's easy to defend him. He's a finesse guy. It's different if you didn't know which way he was going. If he's just going one way or making one move, it's hard to power over a big dude, like a big strong guy, just as strong as him."
Davis would send a final message to Howard with 1:21 to play, as he allowed him to rip off an offensive rebound, but promptly recovered, and, aided by Garnett, swatted Howard's putback attempt out of bounds. He would later help seal the victory for Boston by bothering Jameer Nelson along the perimeter with 15 seconds to play and the Magic trailing 107-104, which helped to force Nelson into a turnover (a Kevin Garnett steal) that generated two game-icing free throws for Ray Allen.
With Davis sliding back to a reserve role, Boston's bench is once again taking shape, and more help is on the way in the form of backup guard Delonte West, who is rehabbing his broken right wrist with eyes towards a potential February return.
"[The bench] gave [Davis] a welcome back celebration the other day at practice," said Allen. "The second unit hadn't seen Glen in a while, so they welcomed him back, sung a little song for him. I'm sure he was glad to be in that role and help out that second unit. The pressure of starting... it can be overwhelming. You've got to make sure you set the team off into a good trend to start the game. I'm sure he was glad to see Kevin back out there in the lineup."
Added Davis: "It's a whole different experience [having Garnett back]. He brings something else to the team that I don't. He's vocal, it's the way he approaches the game. Him being a player out there, he's a hell of a player."
Greg Payne is a student intern for ESPNBoston.com.