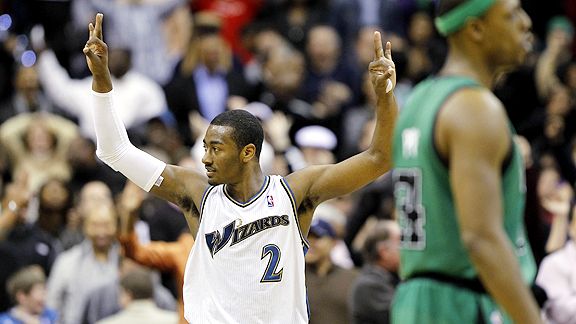 AP Photo/Alex Brandon
John Wall and the Wizards toppled the East-leading Celtics on Saturday.Maybe Shaquille O'Neal knew what was coming. After helping the Celtics to a closer-than-it-should-have-been 86-82 triumph over the Detroit Pistons on Wednesday, O'Neal spoke at length about the team's struggles against weaker opponents.
"[We] can't keep playing with people," O'Neal said. "Great teams stay dominant at home, really beat the teams they're supposed to beat, and stay above .500 on the road. We're supposed to beat [the Pistons] every time, but not by three, not by five, but [by double digits]. We can't keep playing with people. However, we're still learning each other, we're getting better every game.
"We just have to learn to put our foot on people's necks and kill 'em right away. We can't keep playing with people."
On Saturday night in the nation's capital, the Celtics played with people. Despite building a 15-point first-quarter lead against the host Wizards, Boston went cold from the floor, lost its aggressiveness and watched rookie John Wall bank in a key late-game 3-pointer to lift his 13-win team to an 85-83 triumph.
The Celtics' loss on Saturday marked the fifth time this season they've fallen to a club with a record below .500, which suggests they've had difficulty maintaining a high level of play for a full 48-minute span against inferior opponents.
The issue itself isn't uncommon. In fact, last season, the same core group of Celtics struggled mightily against lesser teams, often appearing disinterested, as if the fact that simply showing up with the word "Celtics" written on their jerseys was enough to vanquish these foes.
A 27-27 mark over the final 54 games of the 2009-2010 campaign and a loss in Game 7 of the NBA Finals served as the necessary wake-up calls for the Celtics, who vowed at the start of this season to take both the 82-game slate and the league's bottom feeders more seriously in an effort to secure home-court advantage for the entire postseason.
Things got off to a rough start on that front, however, as Boston fell to the Cleveland Cavaliers (currently 8-35) in the second game of the young season. That left Glen Davis preaching the same killer instinct as O'Neal before a rematch with the Cavaliers.
"We don't speak no English, all we know is 'kill,'" Davis said in late November. "That's it. No more English. Switzerland. That's all we know is 'kill.' Kill, kill, kill. That's our mentality. That's how we have to be for the rest of the season, winning these games and not taking Toronto for granted, not taking Cleveland for granted. Not taking any of these teams for granted. Every team gets up for us and we've just got to get up for every game. No days off."
Less than a month later, north of the border in Toronto, the Celtics boasted a 12-point first quarter lead over the Raptors (currently 13-31), before they grew complacent and allowed Toronto to creep back and eventually build a nine-point advantage midway through the final quarter. Toronto prevailed, 102-101.
A Dec. 29 loss to the Pistons was forgivable, seeing as the Celtics lost Kevin Garnett late in the first quarter to a right calf strain that would force him to sit out the next nine games. A week and a half later, though, they lacked any and all intensity against a sub-.500 Houston Rockets club playing without Yao Ming, Chuck Hayes and leading scorer Kevin Martin, and fell, 108-102.
That brings us to Saturday night's contest against the Wizards. The Celtics stormed out of the gates in Washington, leading by as many as 16 midway through the first quarter. Perhaps they thought their work was finished. The Wizards didn't keel over, however, and managed to get to within eight by halftime, and eventually tied things up late in the fourth quarter before Wall banked in that 3-pointer with just under a minute to play to put Washington ahead for good.
"I really thought we deserved to lose the game," Celtics coach Doc Rivers told reporters. "I felt that way almost at halftime, but definitely by the third quarter. We didn't play the way we play, so give Washington credit. I thought we decided to just, you know, kind of play, not compete anymore. So I really thought we deserved to lose the game."
In terms of these types of losses, the parallels to last season are eerily similar: The lack of intensity once a lead is established, the inability to hold off a charging opponent and reassume a comfortable cushion, the inability to flip the switch back to where it was when the game began.
Are the team's injuries to blame? Or perhaps the power of complacency is, at times, too much for even the most experienced ballclubs to overcome. For these Celtics, it seems as though, against inferior teams, the larger their lead blossoms, the faster their sense of urgency dissipates, and once it's vanished, there's been little chance of getting it back. They appear to understand the hazards of this order of events, yet, at times, they seem helpless in their attempts to overcome them.
While O'Neal and Davis have acknowledged these troubles, the Celtics would do well to turn their words into convincing actions, as, ultimately, their most important judge is an unbiased third party -- the NBA standings.