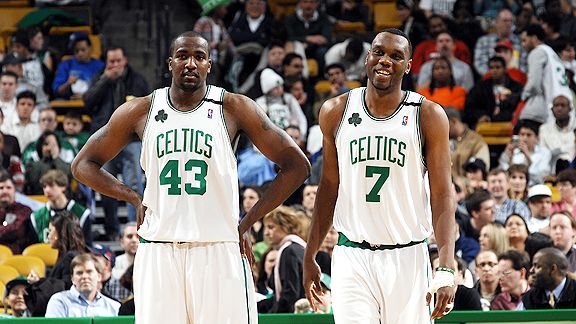 Brian Babineau/NBAE/Getty
Kendrick Perkins and Al Jefferson remain friends after playing together in the Boston frontcourt.Kendrick Perkins and Al Jefferson haven't played on the same NBA team in almost four years, but time and distance apart haven't hindered the bond that developed between the two while Jefferson played for the Celtics for three seasons.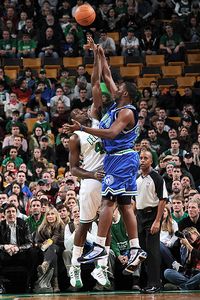 Steve Babineau/NBAE/Getty
Kendrick Perkins and Al Jefferson battle last season.
Their strong friendship, in some ways, should have been expected, given the similarities that existed between the two: Both were big men who play in the post, both were from the south (Perkins is from Texas, while Jefferson hails from Mississippi), and both entered the NBA straight out of high school in back-to-back years.
The only glaring difference between the two appeared to be their respective games. Perkins was a hulking, physical defender whose offensive game still needed a decent amount of polishing. Jefferson, meanwhile, was an offensive stud, a natural scorer with an arsenal of slick post moves and a soft touch at his disposal, whose defense still left something to be desired.
Apart, their respective games could not have been more different, yet when placed together, they forged a unique pairing along the front line for the Celtics - two young big men filled with potential, each boasting key strengths on opposite sides of the ball.
It didn't take long for the pair to realize they could actually learn from one another, and their contrasting games soon gave way to intense competition that ultimately brought them closer together.
"We competed against each other, we competed all the time in practice," Jefferson said prior to Friday night's game between the Celtics and his latest team, the Utah Jazz. "We always competed, you would think at times we hated each other, but it's just how it is on the court, we compete. Perk was known for defense and I was known for offense, so we kind of helped each other off that. He would give me tips on the defensive end, I would give him [tips] on the offensive end."
By the time Jefferson and Perkins entered their third and fourth seasons, respectively, with the Celtics, they were seen, on a team rebuilding with youth, as key cogs of the frontcourt of the future. That plan changed drastically, however, when Jefferson was shipped to the Minnesota Timberwolves along with four other players and two draft picks in exchange for Kevin Garnett in the summer of 2007. Perkins went on to help anchor the defense of a championship team in 2008, while Jefferson found himself smack in the middle of another rebuilding effort.
The two friends, now on opposite sides of the NBA spectrum in terms of team success, made a conscious effort to keep in touch with one another. It's a commitment that has lasted to this very day.
"We're like two brothers," said Jefferson. "It's always going to be that way."
The similarities remained between the pair, and another undeniable and unfortunate one came to fruition last June, when Perkins tore the ACL in his right knee in Game 6 of the NBA Finals. Jefferson was no stranger to the injury, having torn his own right ACL early in February of 2009. Much like the more positive similarities that they shared, the injuries brought them together, as Jefferson spent time in Boston with Perkins last summer, helping his long-time friend through the initial recovery stages, which he himself had fought through a little over a year before.
"I was up here in Boston with him, just letting him know what he's about to see and what he's about to go through, this long road, long process," said Jefferson. "To see him out there running now and saying he's not that far away from being back on the court, you know, it's a blessing.
"I just told him, there's going to be some [tough] days. I know the first three months for me I was just laying on my back, I didn't even know if I was going to walk again. I mean, I knew it was just one of those things that, you were just afraid if you was ever going to be the same guy that you was. I told him it's going to be hard, you're going to think you'll never be the same, but you've just got to work through it and work hard and I think he got through that."
Added Perkins: "[Jefferson] just told me to take my time and don't rush it, and just make sure I put all my effort into rehab and just continue to get my weights on my legs and stuff like that. He told me it took him a year to just get back to where he fully felt great."
The time Jefferson spent with Perkins over the offseason was certainly genuine, but in some ways, he was returning a favor, as he was now able to help Perkins through a difficult process, the same way Perkins mentored him throughout the strenuous transition he made from high school to the NBA during his rookie season with Boston. Perkins, after all, had made the jump a year earlier than Jefferson and was happy to help guide him along during his first year in the league.
"When I first got here he was the guy that came out of high school the year before me, so he kind of helped me kind of like how I helped him with the ACL," Jefferson explained. "He kind of helped me and let me know what's going to happen, how this transition from high school to the NBA [works].
Jefferson's own personal fortunes changed for the better this past summer, as Minnesota elected to trade him to the Utah Jazz, in exchange for two first-round draft picks and center Kosta Koufos. Suddenly, for the first time in his career, Jefferson was not a part of a rebuilding effort, and instead found himself on a team equipped to contend in the always competitive Western Conference. The move was a breath of fresh air for Jefferson, and Perkins shared in his friend's elation.
"He's loving it in Utah," Perkins said. "He told me he came in a little out of shape, he thought, but he's doing great now. They've got one of the best records in the [Western Conference]. He's playing good, I'm happy that he's on a winning team and [he'll] get a chance to make a playoff run of his own."
"I think it's great for him. Obviously his last couple of years in Minnesota [were] pretty tough for him. I'm just happy for him, just to get in that situation and to be able to come out there and do what he got to do, just being able to be a part of a winning system with a great coach."
The two shared a cheerful reunion during pregame warm-ups Friday night. Jefferson was putting up shots on his end when Perkins lumbered out onto the floor and lightheartedly yelled to him from halfcourt, resorting to calling him a personal nickname he bestowed upon Jefferson early in his career.
"He always called me -- ever since my rookie year -- he always called me 'Nose,'" Jefferson said, explaining that the nickname stems from his admittedly large bill. "That's been my nickname for him, so that's what he still calls me."
Jefferson admitted before the game that he wished Perkins had been able to play Friday night, but he knew his friend currently finds himself in the final stages of rehabbing his ACL tear. If Perkins's recovery remains on schedule, though, the pair could find themselves matched up against one another on Feb, 28, when the Celtics visit Utah.
For now, Jefferson and the Jazz hope to reach the level of success Perkins and the Celtics fought to in 2008. Jefferson certainly wouldn't mind adding 'NBA Champion' to the long list of similarities that he and Perkins share between them.
Greg Payne is a student intern for ESPNBoston.com