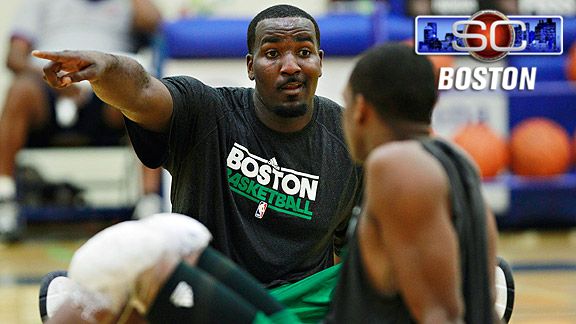 AP Photo/Charles Krupa

Hey, Perk? Where's the nearest restroom?

With two days off before Tuesday's visit from the Cleveland Cavaliers, the Boston Celtics took Sunday off. They'll get back to work with practice Monday afternoon in Waltham, but here's a glance at ESPNBoston.com's offday coverage.
--MAY: WHAT TO WATCH FOR IN THE SECOND HALF--
Five things to watch for in the second half of the 2010-11 season for the Boston Celtics (including the returns of Kendrick Perkins and Delonte West, and two battles with the Los Angeles Lakers). One thing not to watch: a rerun of the Saturday night debacle in Washington, D.C.
--FORSBERG: HANDING OUT MIDSEASON GRADES--
The Boston Celtics zipped through the midseason checkpoint last week, edging the Detroit Pistons on Wednesday in Game 41 of the 82-game regular season. Boston then extended its winning streak to five Friday against the Utah Jazz before stumbling Saturday night in falling to the Washington Wizards. As the Celtics start the downhill portion of their regular-season schedule, an Eastern Conference-best 33-10 record in tow, we hand out midseason marks. For a glimpse at how each player progressed, be sure to check out our first-quarter marks from mid-December.
--PAYNE: C'S LACKING KILLER INSTINCT--
Maybe Shaquille O'Neal knew what was coming. After helping the Celtics to a closer-than-it-should-have-been 86-82 triumph over the Detroit Pistons on Wednesday, O'Neal spoke at length about the team's struggles against weaker opponents. "[We] can't keep playing with people," O'Neal said. "Great teams stay dominant at home, really beat the teams they're supposed to beat, and stay above .500 on the road. We're supposed to beat [the Pistons] every time, but not by three, not by five, but [by double digits]. We can't keep playing with people. However, we're still learning each other, we're getting better every game. "We just have to learn to put our foot on people's necks and kill 'em right away. We can't keep playing with people."