BOSTON -- Six months removed from ACL surgery, Celtics center Kendrick Perkins will return to action Tuesday night against the Cleveland Cavaliers.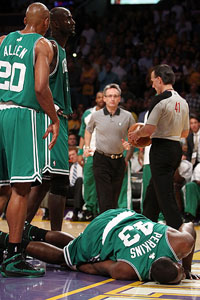 Christian Petersen/Getty Images
Kendrick Perkins is on the floor after suffering a serious knee injury in Game 6 of last season's NBA Finals.Coach Doc Rivers said Perkins would not start and would be limited to 12-16 minutes off the bench.
Asked if he's concerned about his return, Perkins said he's only worried about his conditioning. The knee?
"No, I'm not worried," Perkins said with a smile. "It's been tested in practice plenty of times."
Rivers said after Monday's practice that Perkins had asked to return for Tuesday's game, but he dismissed the idea because he thought there was no way he could return that soon.
When team trainer Eddie Lacerte and team physician Brian McKeon walked into Rivers' office after the session, he knew he was about to get some good news.
"The doctors walked in said they thought he should play," said Rivers. "I don't mind changing my mind."
Click HERE to read the full story.