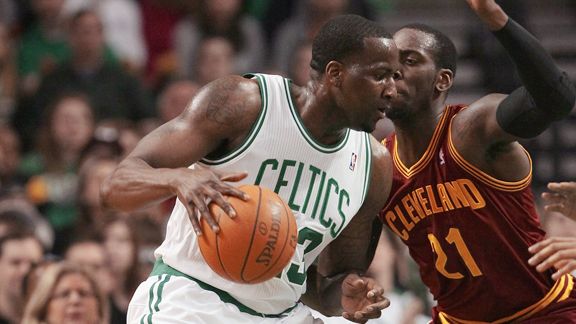 Elsa/Getty Images
Kendrick Perkins and his scowl returned to the court Tuesday vs. the Cavaliers.BOSTON -- Rapid reaction after the Boston Celtics defeated the Cleveland Cavaliers 112-95 Tuesday night at the TD Garden:


HOW THE GAME WAS WON
Celtics captain Paul Pierce scored 17 of his game-high 24 points in the first quarter, while Ray Allen scored 15 of his 18 points in the middle frames as Boston breezed to a lopsided victory that extended Cleveland's losing streak to 18 games. Seven Boston players landed in double figures, but it was the return of center Kendrick Perkins (7 points, 6 rebounds over 17:10) that highlighted an otherwise nondescript night. J.J. Hickson paced the Cavaliers with 12 points and 17 rebounds (much of which came in a third quarter in which he produced 10 points and 11 rebounds).
TURNING POINT
The Celtics held a comfortable 10-point cushion midway through the second quarter, then embarked on a 10-0 run over a mere three-minute span, capped by back-to-back trifectas by Allen for a 56-36 cushion that put the game on cruise control.
STAT OF THE GAME
The Celtics shot 50 percent from the field (42 of 84), including a blistering 45.8 percent from beyond the arc (11 of 24).
UNSUNG HERO
Rajon Rondo must have drawn the short straw as he logged a team-high 43 minutes, chipping in 11 points on 5-of-8 shooting with 10 assists and five rebounds. He hit the only 3-pointer he attempted.
WHAT IT MEANS
The Celtics have won their last six games at home as they prepare to embark on a four-game road trip that will have them battle the Trail Blazers, Suns, Lakers and Kings starting Thursday night in Portland. Despite playing with only 10 players, the Celtics seemed energized by Perkins' return and turned this one into the laugher it should have been, no small task considering their struggles in Washington on Saturday.